Hedge Fun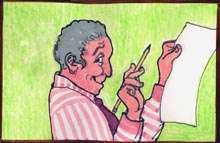 A Youthful Investment
By Steve Carr
The evergreen hedge, ten feet tall, stretched the length of the estate. A landmark in its own right and already decades old in 1970, it provided privacy and, I suspect, a sense of security to the owners. Taking the hedge down was a bold move.
The imposing red colonial, once hidden behind the hedgerow, is a showplace—a historic home that invokes visions of butlers and buggies, calling cards and carousels, lords, ladies, and lawn parties. The giant cottonwoods and fat maples create a canopy of protection from the August sun—an invitation to a croquet afternoon, best-suited for hoop skirts, parasols, and top hats. So goes my imagination as I unhurriedly drive past the local mansion, my thoughts infused with television period pieces viewed on nights when my wife has control of the TV remote.
Regardless, the scene from the street is spectacular. It wasn't always so. The hedge, had it lived on, would be almost a century old today. It only recently was razed, inviting the public to view the show.
I was privileged to be backstage several decades ago. Once upon a time, my best friend lived behind that hedge—as did I—until my mother would call me home. To me, now a casual passerby, losing the hedge is bittersweet. The house and yard, so full of memories and now in public view, amount to a postcard from my youth. The hedge itself is part of my many memories. It was our cover for mischief and, unlike a wall, a porous boundary for our youthful explorations. Had it come down sooner, perhaps my friends and I would have turned out differently. Maybe become responsible citizens?
Without the hedge, we would not have had a vantage point from which to watch the reactions of the boulevard traffic to the shapely bare mannequin legs we artfully positioned under the old Ford Pinto near the curb. Many a gallant fellow stopped to offer assistance. We'd then launch a water balloon offensive at the duped do-gooder. We weren't always wise in selecting our targets. More than once we soaked someone big and fast and without a sense of humor. The hedge not only gave cover, but also provided a lookout, allowing for successful retreats. A hideout of sorts, it allowed for many ill-advised undertakings.
My friend's mother was our hedge fun manager for most of a decade. A hands-free leader, she left us to our own adventures in her massive and private park-like yard, unless and until the police came knocking at her door, and even then she defended our virtues before sending the uniforms packing. More than a mother to the neighborhood, she was executive producer of our haunted house, track-and-field sponsor, supreme arbiter, medic, and cookie caterer.
Behind the hedge, amongst the gardens, we held the Neighborhood Summer Olympics, complete with trash lid discus, barefoot sprints, gunny sack relays, and croquet-ball shot put competitions. The winners' medals were forged of tinfoil, covered in gold and bronze cellophane. We stood proudly on a plywood stand, bending to receive our respective medals while the gang's music prodigy whistled a perfect anthem with his hands. There were no participant ribbons, but enough lemonade for all. I don't recall who was the most decorated. I remember the friends, the intense competition, and laughing so hard it hurt.
Our long summer days at the red colonial were full of unstructured exuberance. It is quite simply where we grew up. And the hedge provided just enough cover to allow for our very un-Victorian antics.