What the River Does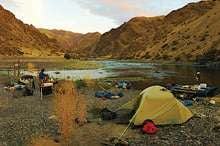 It's a Game-Changer
By Amy Story
I never would've thought the guy I jokingly called Wild River Bill would actually one day take me on the river, but he sure did, as promised.
In Hells Canyon.
"It's a game-changer," his friend Katherine had told me. "If you get a chance to go, you should." And then she lent me her gear, made us a nice dinner, and we had an evening with her and her husband Sean O'Neill when we came to pick up the stuff.
"Wild River Bill" Crupper, knowing I'm a writer, asked me just before the final takeout how I planned to put the experience into words.
Where to start?
The prepping and planning were impressive and immense—the excitement on the first day among the rafters, tangible.