Hells, Yes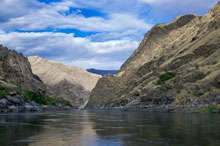 Idylls in the Canyon
By Chris Carlson
In 2018, Caxton Press of Caldwell published Chris Carlson's book, Hells Heroes: How an unlikely alliance saved Idaho's Hells Canyon. Several months later, Chris died of cancer at the family home in Medimont, between Coeur d'Alene and St. Maries. This was the fifth book he had written after he was diagnosed in 2005 and was given six months to live. A passionate advocate for public lands, Chris was a longtime visitor to Hells Canyon and played an important role in its establishment as a national recreation area. An excerpt from that book is published here with permission.
For over twenty years, our family's first spring outing into the wonderful wilds of Idaho has been a trip into the Hells Canyon National Recreation Area. Even in 2006 and 2007, at the height of my battle against a stage IV cancer, I jetted to the Jordan Ranch and camped overnight in the old horse pasture beside Kirkwood Creek.
We always tried to get there early enough in the day that we could claim the campsite on top of the bench, closest to the creek, because it had a picnic table where we could set our food and packs, and by lantern-light, play cards at night with a fire roaring in the nearby grate. Additionally, the site's overhanging limbs from tall hackberry bushes were perfect for supporting a light tarp that served to keep us dry in the event of rain.
Most importantly, it was the campsite closest to the biffy and that was no small [thing] for the women in our contingent. Visiting the site over the years, we watched the Forest Service install several iterations of toilet: from the basic, old backwoods outhouse to a solar-driven waste recycler to a modern two-bathroom model one might find at any Idaho rest area.
In the last couple of years—with each visit I thought it would be the last time—I would see the rays of the morning sun crawl up "Old Shark Tooth," the large overhanging hillock that looms above the former sheep ranch to its south. Each year since April 6, 2008, I have given thanks for another opportunity to revel in the stark beauty of the place, hearing the chukars, watching for elk on the ridges high above the river and catching bass while listening to the quiet flow and occasional gurgling of the Snake steadily flowing north towards its mergers with the Salmon and the Clearwater Rivers.