Hot Type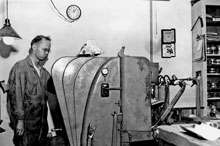 A Weekly Paper in the Good Old Days
By Larry Burke
Photos courtesy of the author
Today it is an outdoor patio adjacent to a popular bar and restaurant in Hailey's Main Street business district, a seldom-used space that sits in silence as the busy world passes by. Seeing it now, who could imagine that this empty space was once the home of a thriving newspaper business, a place that roared with the sound of huge presses and typesetting machines, where the sweet scent of printer's ink filled the air and reporters busily beat the keys of their Underwoods?
My father, Berwyn Burke, converted the old Anderson Bakery into a newspaper shop in December 1951. For the next forty-six years, the words that flowed from the Hailey Times chronicled the human stories that are now the valley's history. More than twenty-five-hundred issues of the newspaper were produced in that building until the paper, by then renamed the Wood River Journal, moved in 1997. After a succession of owners, it finally ended more than 125 years of publication with the sale of its assets in 2008.
The building was the home of our family business for sixteen years, until dad sold the paper in 1968. I spent my formative teenage years working alongside him, my eldest brother Bill, and our mother Dorothy, as we struggled to put out the Times each week and run a commercial job shop on the side. With four boys in the family, the paper had a ready-made stock of printer's devils. Child labor laws or stingy wages never entered into employment negotiations with our father. Each of the brothers came to his own conclusion about the experience. Max and Jim ran from the print shop as fast as they could shed their high school commencement gowns. Bill, on the other hand, became a first-class printer, and I gravitated to public relations writing and editing.
Our dad used to tell us we should be paying him tuition for all the valuable lessons we were learning. In retrospect, he was right.