How to Engineer Magic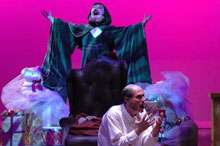 Building Big Puppets for the Stage
By Michael Brandt
Like other children, I once dreamed of the possibilities of magic and fantasy worlds, of faraway places to visit, and fantastical wonders to see.
I dreamed of the amazing careers I'd have as a spy, a jungle explorer, an astronaut. With age, I realized such dreams are not easily grasped and that I would have to travel across continents to places of mystery, unless I used an entertainment medium to take me to far-off places. I began to seek ways to live out my dreams without leaving home. For me, the theatre became one of the most immediate of those entertainments. It's something you can reach out and touch, especially compared to a film, which is just pictures moving in a box. You may be able to see where a movie was filmed or the items used in the story if they aren't computer-generated imagery but in a theatre, an audience member is an active participant in the story as much as the onstage actor is. If the audience so desired, they could touch anything on stage.
When I came to the University of Idaho, I had no idea what to expect as I pursued my Master's degree in theatre design and technology. I moved here from Chicago, where I helped to make plays around the city as a stage manager and carpenter. Now I was eighteen hundred miles away in a mountain college town with no idea of what was in store. When I heard that one of my first placements in the season's productions would be assistant scenic designer and props master for A Christmas Carol, a few things came to mind. The play is a money-maker, a crowd pleaser, a stock show put in the season to draw people to the theatre who might then choose to come see other productions. This is often the case when A Christmas Carol is done annually. I try not to go into any project with preconceived notions of what the process will be like but not knowing my new environment, I worried this might be a recycled production. To my delight, I was wrong. The first production meeting settled all my fears.
The director was David Lee Painter, the head of UI's directing program. He introduced himself and the rest of the team and we went straight into his new ideas. Rather than either a complete re-imagining of the play or a reproduction of the previous year's show, he issued an invitation to us to explore what had been done the year before and expand upon it.
"This A Christmas Carol will be a theatrically transparent production of a company of actors putting on A Christmas Carol in this theatre on this very night," he said. "That means we don't try to hide anything. The audience should be able to see straight to the back wall and shop doors of the theatre."