Hunkered Down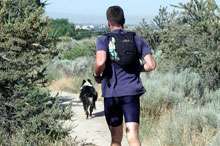 By Kim Steinberg
This story is offered free in its entirety this month.
I am not isolating, quarantining, or sheltering in place. I am hunkering down. My world, near the Boise foothills, has shrunk to a pearl in the jewelry box. I still walk the hills, though the trails are not six feet across. I step off to widen the distance when hikers and bikers pass. I hold my breath until they are six feet away. But the spring desert breeze is fresh.
The dogs run free on Dry Creek Trail, five miles into the hills. The creek below is not dry. It gurgles down the gully amidst dogwood and saltbush. I had hoped for isolation, but families, couples, and young people who are hiking alone share the trail with my husband Si and me. Our dogs have fluffy, friendly faces that invite smiles and pets. Can dogs carry the virus? I don't know.
"We need a sign around their necks that says, 'Please don't pet,'" I tell Si. "You can't keep wiping them down with disinfectant after hikes, they'll get poisoned."
I lean on a boulder through a narrow section. Do boulders carry the virus?
"I forgot the hand sanitizer," says Si. "Don't touch your face." His hair is too long and his eyebrows are bushy.
I hike in front of him so he can catch me if I stumble. As we pass people, they say, "Have a good one," or "Beautiful day," or "Your dogs are so cute."
"The pups haven't learned social distancing," jokes Si.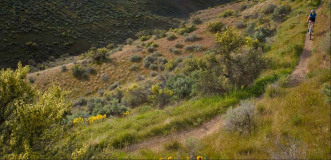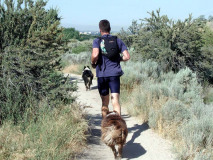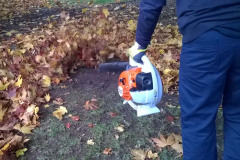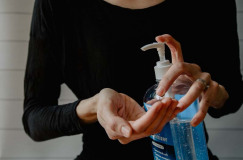 An hour later, at the car, I grab the hand sanitizer. I look at the bottle. Wait, I touched it and then sanitized. Does that mean the bottle might still carry the virus? Am I supposed to sanitize the hand sanitizer bottle, too? I decide that's going too far, and then change my mind.
I return home, wash my hands with soap and water while I sing "Happy Birthday" twice, and watch the sky lighten as the sun creeps down the hillside, scattering the shadows. The firs and lodgepole pines are still green. The sky is still powder blue. Spring has arrived.
Two young men dressed in khakis, dark coats, and backpacks blow leaves in the common area. Why do we need leaf blowers in March? Since October, maple leaves have carpeted the ground like rose petals. Industrial leaf blowers sound like a hundred million bees buzzing all at once: obnoxious, ear-shattering, concentration-fracturing. I'm glad the guys still have jobs, but the vibration bleeds through the walls. I want to go outside and scream at them.
My writing group has been canceled, my haircut postponed, the massage rescheduled. Last night my forty-year-old neighbor, Sam, called a hello from her driveway. Her long sandy brown hair was ponytailed, a few strands blowing in the brisk wind. I stood on the second-story porch, plenty of distance between us.
"How are you? I'm starved for human contact," I said. We chatted for a few minutes. She said, "I'm not high risk. If you need anything at the store, I'll pick it up for you."
"We can have it delivered," I said.
I considered the chain of hands who might touch my purchase. The manufacturer, the assembly line, the stock boy, the packer, the delivery truck driver.
I tried to order groceries online. The system crashed from the weight of the demand. I called my young friend, Lindsey, who offered days ago to pick up groceries. She refused to accept gas money or a delivery fee, but did accept three rolls of toilet paper.
The buzzing stops momentarily, giving me hope. False hope. The sound pulses up and down, rises to a crescendo, and then subsides. Leaves fly into the air, drift like thistle, and settle into a pile.
My husband chants Hebrew in the next room. It comforts him.
My twenty-three-year old daughter is ill: cough, fever, shortness of breath.
My son graduated with a doctorate in physics this month. "Mom, there's a hiring freeze," he says. "I'm going to keep my job at the university for now. It's the responsible thing."
My hands are raw and chapped, my spirits are low, and my dread is alive. Will my loved ones fall into this yawning pit and be lost to me?
I call my seventy-five-year old mother. How is her diabetes? How is her heart? How is she doing?
She says, "I went to the dollar store, the pharmacy, and a physical therapy appointment. Got a lot done today."
I yell at her. "Are you insane, what are you thinking, do you have a death wish?"
"I'm getting my hair cut tomorrow," she says.
I check my IRA balance and a little red line with an arrow says, "You are not on track for retirement."
I attempt to join an online writing group, can't figure out how to sign in, and give up after fifteen minutes. Tears well in my eyes. Stop it, I tell myself. It's no big deal. Try again next week.
The buzzing continues. I want to stomp out there with the shotgun I've never fired, pump it, and shoot the leaf-blowing machine. Is this what they mean by "stir crazy"?
I think of my friend, Janet, in Port Townsend. In her seventies, she has short white hair, a friendly round face, and a cookie basket of a belly.
"I have a stomach bug," she says on the phone, "but my breathing is fine so far." Janet grasps for words when she talks. "Chemo brain," she calls it. Her last bout of chemotherapy was a year ago. Lung cancer.
"My days are numbered, anyway," she says.
I think of community spread and I think of how the disease uses our love for one another to find a host, passing from one person to the next through a hug, a handshake, a hello.
The buzzing finally stops, the leaves having been moved. A few strays float on the wind. The morning sun is high in the sky. I think of coffee, and of owls flying across the moon, and of sisters, mothers, and lovers.
I think of Janet's smiling brown eyes, the touch of her hand, her welcoming embrace. I reach out to my children, my husband, my friends. And our distance becomes connection.
Two weeks later, I shop during senior hour. A grizzled man in a blue baseball cap says, "I don't need no six feet of distance, I'm a native."
The other nine people, spaced evenly apart, stare silently at him with a mixture of fear and disapproval, until he says, "But I respect it. I respect it."
The aisles are a gauntlet of fast carts and silent shoppers. Fear fills the air.
I sit outside at home and there's a feeling I have, now that morning has come: of life, of loving, of wanting for nothing. Children laugh in the distance, my dog groans as she rolls over, neighbors garden in their yards. These are the sounds of fullness. Inside is a breakfast waiting to be cooked, a cup waiting to be filled, a day waiting to be born.
I sense that it is only the beginning, and this could be our finest hour.