In a Meadow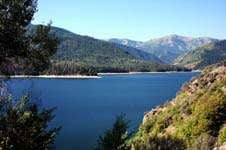 By Wallace J. Swenson
Photos Courtesy of Idaho Tourism
I stepped out of the thick, dark, pine forest and into a meadow. As though on cue, it started to snow: big flakes, soft and fluffy, globs as big as daisies.
They fell straight down, but at a lazy pace. Actually, leisurely is a better word, like each one was looking for just the right place to settle to earth. I stood mesmerized for a minute or so, then stuck out my tongue to try and catch one like I used to when I was much younger. I managed to do no more than spot up my specs. I'd guess the open area was about two acres, and pear-shaped, more or less. I stood at the stem end. At the other side, a small grove of aspen trees huddled. Just the place for a deer to spend the day.
I don't get around in the hills like I used to. I mean, I can't head up a mountainside just to check out a copse of quaking aspen for a bedded deer. Nor traipse three ridges over and back again in eight hours. But I can still walk through the lower meadows and meanders around Palisades Reservoir. And I do, carrying my ancient rifle just so I don't look like some old fool, lost after wandering out of camp. Little did I expect that this walk would present me with a life-changing image.