Is Boise Not Green?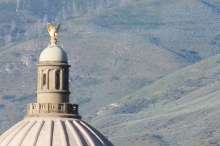 What Do Lists Know?
Don't we all love lists? The ten best, the five worst of this or that. Don't we kind of hate them, too, for the way that reduce nuance to, well, a list?
IDAHO magazine gets a lot of lists. We must be on someone's list.
For obscure reasons, national lawn care companies appear to be infatuated with list-making.
One of them answered the pressing question of which of the two hundred biggest U.S. cities have the most green space. Idaho cities didn't do too hot although the reason is pretty obvious.
Boise is the only Idaho city among the top two hundred in population, at number ninety-seven. For green space, it notched fifty-fourth place.
Las Vegas supposedly has more green space. Phoenix came in at number thirteen. Oklahoma City was sixth. OK. Whatever.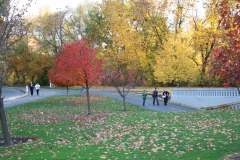 The same company grappled with which cities are best for cookie-lovers. Boise ranked a tasteless 107.
A competing lawn-care group wanted to know which states are best at managing waste, by which they apparently meant garbage. Connecticut was best. Alaska was worst. Idaho, an unimpressive thirty-fourth.
That same company also wondered which of the biggest U.S. cities have the best ice-skating. The very believable winner was St. Paul, Minnesota. Boise got thirty-third.
Then the company peered into the most festive cities. New York City took the prize and Las Vegas was runner-up. Boise limped in at fifty-ninth.
An investment advice firm examined the old chestnut of in which big cities are people happiest. Sunnyvale, California took the honors and that state dominated the top ten. I won't go into the methodology but money was big. Boise ranked a respectable sixteenth.
The Idaho Department of Labor likes lists.
It reported that the U.S. Census Bureau estimated Idaho's population was the second fastest-growing from July 2021 to July 2022, which would surprise no Idahoans.
Its population increase of 1.8% during that period was about four times faster than the national growth rate. Florida edged out Idaho for first place with a 1.9% growth rate.
Our labor department also pointed out that Idaho is now the seventh youngest state in the nation, with a median age of 36.8 years. Utah is youngest at 31.3 years.
The department also noted that Idaho is the fourth-worst state in terms of job dismissals. The list was actually for the most job-secure states and it didn't go past thirty, but there was a search bar.
My first guess at the least-secure state for jobs was Wyoming. It ranked forty-ninth. I tried again with Georgia. It was forty-eighth. Alaska, maybe? Third time's a charm.
The magazine has gotten a lot more lists than just these lately. But as a list of lists, this one might be too long already.
—Steve Bunk