Is That Sarcasm?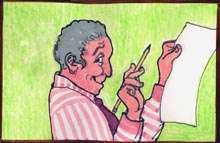 Or Nothing at All?
By Steve Carr
A wise friend told me my columns remind him of the Seinfeld show. "Very similar," he said, and my head swooned during his perfect pause. "It's true, just like the Seinfeld show, you write a lot about nothing."
"Thank you," I managed, uncertain how else to respond, not reading him well enough to know if it was subtle sarcasm.
Twenty years ago, I'd have assumed the remark was a challenge, and would have flung an ugly yet witty repartee his way. Middle age has an advantage over young, virile, and handsome: it takes more than getting cut off in traffic or being told your writing is "nothing" to get riled up.
Seinfeld was a staple in our house for years until the reruns were moved to late night. My young, virile, handsome son is able to recognize a favorite episode from the show's opening one-liners.
"Make no mistake about why these babies are here," Jerry Seinfeld's character said. "They're here to replace us."
I don't know if that's how the "Now That's a Baby" episode began or if it's from another, but I heard the line last week while warming a bottle for my granddaughter, who refused to eat dinner with the rest of us, and then decided she was hungry at 11 p.m. My granddaughter was spending the week with us, while her young handsome parents drove across the country to their new home and career.
On my way to the microwave, by the light of the flickering television, I slipped on a dirty diaper that somehow hadn't made it to the garbage. As I hopped on one foot while rinsing the other in the kitchen sink, I was reminded of a time long ago when my brother visited my mother and father with his young family. Several days after they had returned home, Dad wrote them a letter.
"Dear kids," he wrote, "I was about to send you a note and say, 'I give up, where did you put it?' when I found them: two diapers in the wastebasket by my desk. For days I hunted for a dead mouse, took innumerable showers, and sniffed when Grandma walked by. I discovered the diapers while rummaging in the wastebasket to see if I'd mistakenly thrown an unopened letter there. I inadvertently grabbed one, in the poor illumination, and I cannot scrub the odor from my hand. Bad as the odor is, I think the undulating motion of the little white worms was the most frightening."
Long after that episode, and quite inexplicably, my father was always the first to ask when the babies would be back for a visit.
My granddaughter's visit ended last week. She went home to her parents—no more late-night screams, no more stinky diapers, no more babysitting. I'm off to the golf course.
*   *   *
As my tee shot rolled, coming to an inauspicious rest in front of the women's tee box, my wise-guy friend said, "Your golf game reminds me of Jack Nicklaus. Yep, your shots are straight and true."
"Thanks," I replied, distracted, inexplicably missing my granddaughter—who, by the way, is here to replace me.