Jammin' With the Champs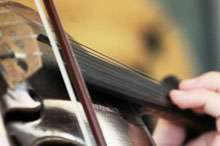 In the Fiddling Capital of the World
Interviews and Photos By Michael Vogt
Each year during the third week of June, roughly 350 musicians from thirty states and their fans congregate at Weiser for the National Oldtime Fiddlers' Contest and Festival. Fiddling arrived in Weiser with covered wagon emigrants in 1863, and contests were reported as early as 1914. The current festival and contest, first held in 1953, now ranks among fiddling's "Big Three," alongside the Grand Master Fiddle Championships in Nashville and the World Championships of Fiddling in Crockett, Texas.
The community of 5,300 hosts a week of jamming and competition in which contestants categorized by age groups (but not gender) play three tunes each, judged on danceability, oldtime style, rhythm, and tone. Photographer Michael Vogt captured the action in Weiser back in 2010 and recorded interviews with a few contestants. Here, in words and pictures, is his snapshot of the town billed as the "Fiddling Capital of the World."
JUSTIN BRANUM OF ST. LOUIS, MISSOURI
I started playing when I was twelve. I'm twenty-seven now, so I've been in it for fifteen years. For one thing, the volume of fiddle players here is kind of unique. It's hard to find that in a lot of places. A lot of people that come up here are great players. There's a lot of really good jam sessions and that's always a big plus, that's something we all really look forward to when we go to a contest. And the competition is good, too. It's fun to say you've won or done well in this, because that means you beat out some good fiddle players, which makes the contest more prestigious. A good example of that this year is a really great fiddle player named Byron Berline [two-time Weiser winner]. He's a legendary bluegrass fiddle player and he's here, so someone like that is really cool to run into and watch him play in a jam session, and maybe get to play with him, which is something you wouldn't normally get to do. That's a cool thing, and there are lots of other guys like that. Wes Westmoreland, a great fiddle player, is here right now. You rub elbows with guys like that, and it's really cool.