Letters from the North End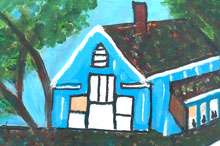 Why Are We Here?
By Barbara Morgan
Just a quick note to tell you we're leaving Moscow, to downsize in Boise. We are looking for an old house in the North End . . .
Why the North End? You ask why anybody chooses to live in a neighborhood where you can hear all your neighbors at the same time on a summer evening? Where, for the same amount of money as for a place elsewhere in the city, you get about one-third the house? It's hard to explain.
I suppose it's so we can walk everywhere and get to know our neighbors. Experience diversity. You know the old saying: "Small is beautiful."
Husband says to tell you, "Hi." And he says it's more than just small is beautiful. There is a certain something about the North End. He says you just don't see places like this anymore.