Making Memories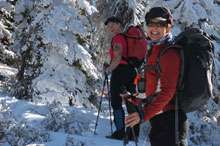 In the Albany Mountains
Story and Photos by Alice Schenk
On a bluebird day in mid-November 2018, we stepped from the pickup, donned our hiking boots, hats, and backpacks, adjusted our trekking poles, and headed down the road toward the highest mountain in Idaho south of the Snake River. Rising 10,339 feet near the City of Rocks, Cache Peak is the only peak taller than ten thousand feet in the Albion Mountains.
When Boisean Deb Rose invited me to make this climb with her and Cozeth Scott of Idaho Falls, I said no at first. Not only would I be teaching that morning but, looking at the weather report, it would be cold on the mountaintop. Very cold.
My daughter Megan laughed when I told her about my last-minute decision to go.
"I can do a last-minute let's go to lunch," she said. "But climb a mountain?"