May 2017 Calendar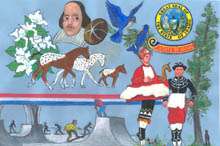 By Ruby Tanner
In spite of our efforts to ascertain that events listed in our calendar are described accurately, cancellations or changes due to weather, illness of performers, and other such things, although rare, are bound to occur. Double checking with the event coordinators about locations, dates and times is always a good idea. Details about many of the following events can be found at idahocalendar.com
1 Friends of the Garden City Library Spring Book Sale, Garden City
1 Idaho Falls Fire Department Fire Station dedication, 1:00 – 4:00 pm, Idaho Falls
1-17 "Rome: Military Genius and Mighty Machines." Journey back in time 2,000 years, Museum of Idaho, 200 N. Eastern Ave., Idaho Falls
2 Kilroy Coffee Klatch: Coffee and conversation at the Warhawk Air Museum, free for all veterans; 10:00 am-12:00 pm; Nampa
2 Seniors Day, 9:00 am-Noon, Bonner Mall, Ponderay
2,16 "Reptile Review": Herrett Center for Arts and Sciences, CSI Campus, Twin Falls
2-31 "Rome: Military Genius and Mighty Machines": Exhibition, Museum of Idaho, Idaho Falls
3 "Blast of the Past" Summer Cruise Night, Freddy's Frozen Custard, Boise
3,10 Tot Time: Toddlers 18 mos – 3 yrs develop social and communication skills as they enjoy dancing, singing, laughing, and learning; free; 10 am; Meridian Library
4 Mobile Food Bank, 12:30 pm, White Bird School, White Bird
4 Wildflower Walk: Hosted by the Idaho Botanical Garden (IBG), free, 6:30 pm at the IBG Admin Building; registration required, 208-343-8649 or idahobotanicalgarden.org; Boise
4 "Idaho Gives" Day: Online fund-raising event; information at "Idaho Gives" website; statewide
4 Arbor Day Celebration: 11:00 am – 1:00 pm; free; tree planting, educational materials, lunch; Twin Falls County Historical Museum, Filer
4-6 Old Time Fiddlers: Enjoy this annual event, with a general meeting, contest, and "jammin." Come on over to Hoot's Café and listen and toe tap, or bring along an instrument and join in! White Bird. Information: 208-839-2265.
4-6 CIAA (Central/ Idaho Art Association) Show and Sale: This 50th annual show will feature the art of CIAA's founding members. Bicentennial Historical Museum, Grangeville
5 Wanted: Teen volunteers for this year's Summer Reading Program. Application deadline is May 5th; check Nampa Public Library web site for details, Nampa
5 Cinco de Mayo: City Beach, Sandpoint
5 First Friday Art Walk: Local kids will begin creating sidewalk chalk art at 2:30pm. Drawing will continue until 5pm when Art Walk begins and the community can enjoy the wonderful hand-drawn art; Old Town Pocatello
5-7 47th Annual Firebird Raceways Ignitor, Eagle
6 Portneuf Valley Farmers Market Opening Day: Saturdays all month, 9:00AM to 1:00PM, Pocatello
6 Tree Houses: This exhibit includes fun, hands-on ways to explore the important roles that trees play in providing homes for all sorts of wild things (including people); Idaho Museum of Natural History, ISU Campus, Pocatello
6 Museum Work Day: Volunteers welcome; begins at 8:00 am; lunchtime seminar (bring your own lunch): Anna Chase, OJSMNH, "Boise River Mollusk Survey"; O.J. Smith Museum of Natural History, Boone Hall, The College of Idaho, Caldwell
6 Clean Sweep: Meet at 9am (ERC Office in Ketchum, 471 Washington Ave N; KB's in Hailey, 121 N Main St; or Memorial Park in Bellevue, between Cedar and Elm) to register and pick up garbage bags and gloves. Complimentary breakfast snacks and coffee. At 11:30, celebrate your good work with a free lunch provided by KB's; Ketchum/Hailey/Bellevue
6 College of Southern Idaho Spring Arts Experience: 12:00-5:00PM, the CSI Fine Arts Center back lawn, Twin Falls
6,10 Farmer's Market: Shop for fresh produce, artisan goods and enjoy live entertainment Wednesday afternoon and Saturday morning in Farmin Park, Sandpoint
6-7 69th annual Riggins Rodeo, Riggins
6 "I Heart Treasure Valley": motivational speaker Nick Vujicic; free, at Ford Idaho Center, Nampa
6 "Vintage to the Core" Pickers's Paradise Show (antiques and junque), O'Connor Fieldhouse, Caldwell
6 "What a Girl Wants" Expo: Multi-vendor event for Mother's Day, Elks Lodge, Nampa
6-7 Orchid Show and Sale: Hilton Garden Inn-Boise Spectrum, Boise
6-27 Farmer's market: Saturdays, 9:00AM-1:00PM, Idaho Falls
7 "AMC and Family" Show and Shine: Come and see the most iconic classic cars in the valley, free to both spectators and participants; 1:00-5:00 PM, Westside Drive-In, Boise
8-14 Payette Apple Blossom Festival. Free concerts in Central Park and many family-friendly events, including one of the area's largest carnivals. Visit www.appleblossomfestival.net/
8 Afterschool Sensory Storytime: This 45-minute storytime is a full-family opportunity for caregivers and/or therapists of patrons with special needs; free; 3:45-4:30 pm, Public Library, Nampa
9 Reading Tails: Come read a book to a furry friend; We'll have trained therapy dogs (with their owners) waiting to hear your favorite story. All ages are welcome to bring a beloved book to share with this attentive audience. Free, 3:30-4:30, Public Library, Nampa
10 Sunset Lecture Series: This month's topic is avian adventures in Costa Rica; free; 7:00-8:30 PM, Foothills Learning Center, 3188 Sunset Peak Rd, Boise
12 Pioneer Farm Days, 10am – 3pm. Rides in covered wagons, six pioneer buildings to view and experience, Dutch oven cooking served. 930 East 150 S., Declo
12 National Public Gardens Day; Free, Idaho Botanical Garden, Boise
12 "Dig Into Idaho Geology" Open House; Free; Idaho Museum of Mining and Geology, Boise
13 International Migratory Bird Day. Castle Rocks State Park will host a citizen science activity for advanced birders and, for children and beginners, a short walk to introduce the life-long hobby of bird watching. 7 a.m. to 3 p.m., free. All bird guides discounted 20%. Castle Rocks State Park, register: 208-824-5911
13 5th Annual Idaho Archaeology Fair, 10:00 am to 3:00 pm, free and fun for all ages. 210 Main Street, Boise. Contact: Mary Anne Davis, (208) 488-7472
13 Rebekahs' Spring Fiesta Dinner: Ole! Enjoy tasty, home-cooked, Mexican food. This annual event is always a treat. IOOF Hall, 12 PM – 5 PM (or until food runs out) HYPERLINK http://visitwhitebird.com/wp-content/uploads/2017/04/spring_fiesta_opt.png, White Bird
13 Strawberry Festival: 1:00-4:00PM, Xavier Charter School, Twin Falls
13 Boise Contra Dance Society Dance: 7:00 PM, Broadway Dance Center, Boise
13 North Idaho Veterans Stand Down: A day of appreciation for veterans and families; 8:00AM-2:00PM, Kootenai County Fair Grounds, Coeur d'Alene
13 Depot Day: Hundreds of classic cars from around the region on display on historic downtown Wallace streets. Vendors, kids games, and more; Northern Pacific Railway Museum Grounds & all of downtown; Wallace
13 Dog d'Alene: free; 10:00 am-3:00 pm, downtown Coeur d'Alene
13 Birding Festival: This field trip will be fun for the whole family. Start at the American Falls Library and travel to local birding areas. Free. Register at American Falls Library from 9:00- 9:30 am, American Falls
13 6th Annual "Angel Walk" Car Show, Homedale
13 15th Annual Sacred Salmon Ceremony: 12:00 Noon, Riggins
13 Foothills Family Day, Foothills Learning Center, 3188 Sunset Peak Rd, Boise
15 "Living with Fire" Exhibit: Idaho Museum of Natural History, Pocatello
15 Pre-Tween Activities (ages 5-7); Public Library, Nampa
15 "Tweens: What is the solution?" Free. Get a free take-home Science Experiments book (1 per family)! For tweens, but all ages welcome. Public Library, Nampa
18 INL Desert Site Tour: the range of cultural resources at the Idaho National Laboratory is highlighted in this tour, from 7:50 am to 4:00 pm. Meet at 775 University Blvd., Idaho Falls. Reservations: Christina Olson, [email protected]
18-21 32nd Annual "Lost in the '50s" Car show and parade, Sandpoint.
19-20 Southern Idaho Coin Club Annual Coin Show; Hilton Garden Inn, Boise
19-20 Monster Truck Insanity Tour, Sandy Downs, Idaho Falls
20 Owyhee County Fossils Field Trip. See this issue's Extended Calendar, and www.idahomuseum.org
20 Northwest Spring Fest, Kootenai County Fairgrounds, Coeur d'Alene
20 "Right on Target": This free storytime is intended to be a full-family opportunity for caregivers and/or therapists of patrons with special needs, 10:30-12:30, Public Library, Nampa
20 Field Trip to Salmon Dam, 11:00 am-5:00 pm. Information: www.twinfallsmuseum.org, Filer
20 Paint the Town Kick-off: Join NeighborWorks Boise's program, Paint the Town, in celebrating 35 years of beautifying homes and neighborhoods. Food, entertainment and activities for the whole family; 11:00 am, Sherwin-Williams, Meridian
20 Treasure Valley Roller Derby: 6:00PM, Expo Idaho, Garden City
20-21 Bowfishing Tournament: Willow Bay Marina, American Falls
21 History Along the Greenbelt, 11:00am to 2:00pm. Learn about Boise's history along the greenbelt from local historians from Ann Morrison Park to Barber Park, Boise.
21 Baron's Car Show, Boise
24 [email protected] Summer Concert: This is the first night for Bannock Civitan Club's summer concert program; Pocatello
25 Salute the Troops and First Responders: This community event is held on the fields of Rigby Middle School; Admission is free to the public; We will have food, vendors, entertainment, inflatables, and activities; 3:00-7:00PM, Rigby
25 Yappy Hour. A tail-waggin' good time for people and pooches alike! Bring your dog and enjoy a Panhandle Animal Shelter benefit with live music, food and beverages available for purchase, plus a fenced-in area for dogs. Free admission; 4 p.m. to 7 p.m. at Taylor & Sons Chevrolet, Sandpoint
27 ID Archaeology & Historic Preservation Event, 1 to 4 pm Visit a re-enactment of an emigrant camp and learn about "Life on the Trail." Rangers will discuss the Prairie Schooner wagons and visitors can sample food from the trail. Behind the Visitors Center at the second wagon, Almo. Contact: Juanita Jones, 208-824-5916
27-28 Priest Lake's Summer Kick-Off: A Saturday parade and Sunday fun runs, an arts-and-crafts fair with over fifty vendors who bring their hand-made wares to sell, pancake breakfasts, sausage/hotdog booth, bake sales, quilt display, Lions Club Kids' Carnival and more! Priest Lake. Don't forget Saturday night's "People Helping People" Annual Wine Social, Dinner and Auction at Elkins Resort, which raises funds for community projects and needs.
29 Memorial Day Ceremony, Hailey Cemetery, 11:00 am., Hailey