Meadowlarks and Memories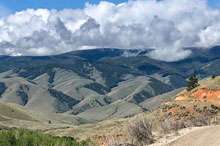 Invitations to Soar
Story and Photos by Melinda Stiles
Each winter my husband and I leave our beloved, frozen Idaho and migrate to the warmth of Arizona. Each spring I am rabid for our return. By April I have had my fill of heat, dust, yapping Chihuahuas, and wailing sirens. The litter tossed by humans onto neighborhood streets has me pining for my walk in pristine Idaho. Here, I am surrounded by mountains so close I can nearly touch them and air so sweet and pure that each inhale is a rejuvenation.
On my first walk each spring near our home at Carmen, I eagerly anticipate the notes of the season's loveliest harbinger, the western meadowlark. The call is unmistakable—melodious, resonant in timber and tone—a full throated joie de vivre. My Audubon Society Field Guide to North American Birds describes the call as saying, "Hip, hip, hurrah, boys! Three cheers! Oh, yes, I am a pretty little bird." While I can't attest to having heard that repertoire, I have imagined the call to say, "Rejoice! It's spring. Welcome home!"
I am serenaded in surround sound during my five-mile walk. A call on one side of the road is echoed by one on the opposite side. Soon, the entire meadowlark orchestra is tuned up: right, left, above, back, front.
In early spring the meadowlark is covert. I can stand in front of a ponderosa pine from which the call emanates, look up and down its branches, and never see the elusive bird.