Ever Visitors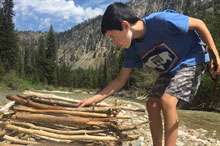 At the Edge of Wilderness
Story and Photos by Kaidi Stroud
Amid a string of one-hundred-degree days and smoke-filled air, we invite my sister and her family to Grandjean to spend a couple of nights in the cabins there. Northeast of Lowman at the edge of the Sawtooth Wilderness, the six miles of dusty, winding, washboard road into Grandjean are both an off- and on-ramp. It's the kind of road where you wave at everyone you pass, in part because one of you will have to inch as close as possible to the canyon wall or road's edge to allow the other by. As you descend farther into the canyon, the bars on your phone diminish to zero.
Our tradition during visits to Grandjean over the past several years has been to ride this stretch with the windows down. The fragrance of ponderosa pine, dirt, and river is rich and immediate. The dog and the children hang their heads out the windows, while the adults crack open road sodas and ponder why that fragrance can't accurately be captured in laundry detergent. And if it could, what should it be called? Idaho Dirt Road? Sawtooth Wild? Stinky Armpits and Tall Trees?
My young son reaches out the backseat window for my hand. We smile at each other in the rearview mirror as our fingers clasp, dangling over the dazzling flow of the Payette River.
What is it about this place?