Mom's Poem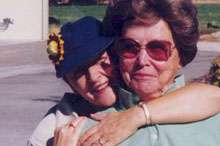 Requiem for a Tough Lady
By Janene Bromley Piecuch
I met my mother, Wilma Pickett Bromley, when I was eight years old, and it was love at first sight for me.
She died recently in Star at age ninety-three. She was a tough, tough lady—that's how women were in the "Greatest Generation." I'm more of a dreamer, with a heart that's broken easily and heals slowly.
She had just married my dad in Seattle when we met. I was from his first marriage. It may have taken a little longer for her to return my love, as I was sick with malnutrition and viral pneumonia. I was taken to a doctor, who advised that I should be put in a hospital and allowed to die there. That made my new mom mad. She picked me up and said, "If that's how you feel, I darned well won't leave her here."
On the way home, she told me, "Hospital people don't know everything. I'm a farm girl, I know how to make you well."
I thought she was an angel.