Mountain Lovers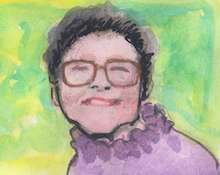 Nurture on High
By Marylyn Cork
I saw the most amazing thing a couple of weeks ago: a herd of elk, numbering at least three bulls, peeled down off a mountainside and jumped a fence and the county road into a neighbor's lush green hayfields.
My sister and I were coming home from dinner across the state line when we were transfixed by the spectacle about a mile from my home. There was too much milling and cavorting for an accurate count but approximately sixty animals were in the herd, the most elk I have ever seen at one time in any one location. They were gorgeous.
To me, there is no animal as stately as an elk. They know they are royalty. I remember when they first began to make their presence known on the mountain behind my house, having emigrated from the Priest Lake area where they were planted many years ago. I heard a bull bugle one fall from high up on the mountain—that was probably in the early '60s.
One memorable evening, my husband rushed home from surveying the fence line between our forty acres and our nearest neighbor's property and hurried his pregnant wife (me!) and our toddler son up a steep hillside to view a small group of five or six animals grazing in a meadow. Among them were a bull that allowed us to approach only so near and two cows with calves.
As the years passed, more and more of the majestic creatures gradually moved in to make their home on the mountain. Now I occasionally even see them in my yard during snowy winters, and view them, too, in neighboring fields. Elk are not a rare sight out here any more.