Never Too Late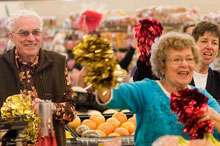 Four Decades of Fit Older Folk
By Alice Schenk
I teach a free fitness class for the College of Southern Idaho in the small town of Rupert. We meet three days a week in the Civic Gym attached to City Hall.
The gym was built in 1938 and some of my students have been around long enough to recall climbing a rope that once hung from a beam. My class, called "Over 60 & Getting Fit," draws anywhere from forty-five to sixty senior citizens. I tell them age is a number and mine is unlisted, although they all know I officially joined their ranks last November. We meet three days a week to work out. I like to sprinkle lots of fun into the mix, because in addition to burning calories, decreasing stress, reducing depression, and sleeping better, exercise increases endorphins: feel-good chemicals that also are released during laughter.
I use a microphone headset that stopped working during one recent class—and then started again, then stopped, started, stopped, and finally just would not work. The next time I held a class, it fired right up and worked fine. One of my students said, "It must have a word limit." The class laughed but I thought, wait, surely I don't talk that much? These senior citizens are tarp as a shack.
We're more than a fitness class: we run a bit, walk a lot, and dance a little—only we don't call it dance, it's "intensified activity" or "modified aerobic movement." Our goal is functional fitness, with an aim to age gratefully and gracefully. I believe we cannot be "anti-aging," since that would mean we were against living.