Mushroom Soup/Lemon Pound Cake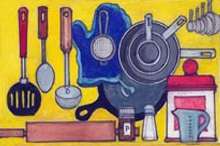 By Amy Story Larson
Marvelous Mushroom Soup
INGREDIENTS
4 Tbsp. butter
2 c. chopped onions
1 lb. sliced mushrooms
2 c. chicken or vegetable stock
1/2 c. dry white wine (optional)
2 tsp. dried dill
2 tsp. fresh thyme
2 tsp. paprika
2 Tbsp. soy sauce
1 c. milk or heavy whipping cream
3 Tbsp. flour
1/4 c. sour cream or Greek yogurt
2 Tbsp. lemon juice
2 Tbsp. fresh parsley
1/2 tsp. garlic powder (optional)
PREPARATION
> In large pan, sauté onions and mushrooms in butter over medium heat until onions are softened, about 15 minutes. Add dill, thyme, paprika, chicken broth, soy sauce, and white wine. Bring to a simmer and reduce by half.
> In a small bowl, whisk flour into milk until smooth. Add milk mixture to soup and cook until soup begins to thicken, about 10 minutes.
> Over low heat, slowly stir in sour cream, and lemon juice until combined.
> Garnish soup with parsley and possibly Parmesan, serve hot.
Lucky Lemon Pound Cake
INGREDIENTS
3 large eggs
1 c. sugar
8 oz. sour cream or Greek yogurt
1/2 c. oil
2 Tbsp. lemon zest
2 Tbsp. lemon extract
1 1/2 c. flour
2 tsp. baking powder
1/2 tsp. salt
1/2 tsp. ground ginger
powdered sugar
lemon juice
PREPARATION
> Spray and flour an average-sized loaf pan.
> In a large bowl, crack three eggs, add sugar, and sour cream or yogurt. Blend until smooth.
> Add oil, blend. Add lemon zest and extract.
>Add remaining dry ingredients and blend.
> Pour into pan, bake at 350 degrees for 50 minutes.
> Let cool for 30 minutes before turning out onto cooling rack.
> Once fully cooled, drizzle with a lemon glaze, made with powdered sugar and lemon juice, combined to taste and desired consistency.
NOTE: I've always been drawn to lemon anything. Scientifically speaking, lemons are a miracle fruit, a great source of Vitamin C, antioxidant, and hydration-promoter. Aromatherapy-wise, the happy yellow citrus is an energy booster, calmer of anxiety, and a natural stress reliever. Pass the lemon pound cake!