Tough Questions [read this free]
John Rember Confronts Increasing Disorder
By Les Tanner
This story is offered free of charge in its entirety.
Several years ago, I attended Fishtrap, a week-long gathering of writers that was held at Oregon's Wallowa Lake State Park. During a break between sessions, I struck up a conversation with author Laura Lee, one of the event's presenters.
"Is this your first Fishtrap?" she asked.
"It is, and I'm glad I came. I was convinced to give it a try by my colleague and writing teacher, John Rember."
"You couldn't have chosen a better person to work with if you want to be a writer," she told me. "The first time I met John was at a conference like this. When he read 'Idaho Man' to the group, he just blew us away!"
"Idaho Man" is one of eleven short stories in John's book, Cheerleaders from Gomorrah: Tales from the Lycra Archipelago (Confluence Press, 1994). In it, as the result of a talk given by a retired professor of paleontology to the Rotary Club in the fictional Ammoniah Falls, Idaho, the local mortician becomes a fossil hound. One day, he turns up with some human teeth that he believes to be fossils. He convinces the prof to follow him to the location of the find. The teeth turn out to be true fossils, but . . .
The ending is a surprise, a necessity for me to like a story. It not only is a well-written piece of fiction but includes interesting speculation regarding the impact of such a find. There is a message in everything John writes.
In the spring of 1995, when I was sixty-one, I enrolled in the first of several writing classes that were taught by John, then a member of the English Department at The College of Idaho, where I was on the faculty of the Mathematics Department. If it weren't for him, I might well have not had the enjoyment of the writing that has been a big part of my life for the past twenty-six years.
Whether or not John's and my initial conversation went like this, I'm sure it was close:
"I want to learn how to write," I said to John. "How can I do that?"
"First you need paper and pencil," he replied.
"I can do that. What else?"
"You must have something to say," said John.
"I have many things I want to say. I just don't know how to say them."
"I can't tell you that. The best way for you to learn is to see a lot of examples," he replied. "That should give you some ideas."
"Where do I find these examples?"
"See that big building over there?" he asked, pointing at the college library.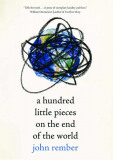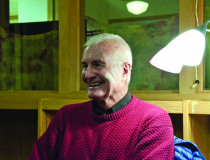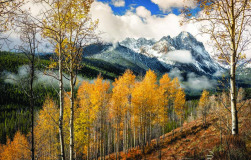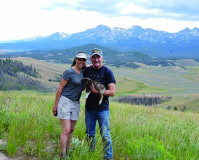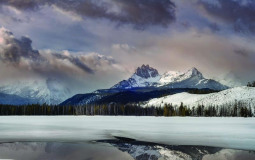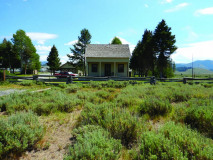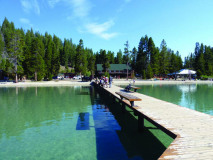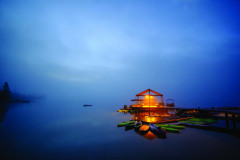 It's difficult, if not impossible, to describe what makes a good teacher, but an obvious clue was how eagerly I and the rest of the students, mostly English majors, looked forward to John's classes. He was always challenging in one way or another. He knew what he was talking about. He was critical but never demeaning. He could pick out exactly where a story was strong and where it was weak.
I've read all of John's six books except Sudden Death, Over Time. The first two I read were Cheerleaders and Coyote in the Mountains, both collections of short stories. They were my introduction to John's writing, and his style and content impressed me. Some of his characters were clearly people he had known. Others were John as he saw himself, both when he wrote them and when he was younger. The stories were of a different nature than mine had been. John delved into the depths of his characters. I considered much of his writing to be dark, whereas mine were much less intense, more shallow. He painted a world that was totally unfamiliar to me, but the way it was described made me want to read more. I realized that I wanted eventually to write as well as John did, but didn't want to change what and how I wrote.
As a final project in John's class "Techniques of Contemporary Fiction" that I took in the fall of 2000, he asked each of us to write about the author who had influenced us the most, and to let him know in advance who that was. I told him I'd write about Ivan Doig, one of my favorite authors. However, unbeknownst to John, I conspired with his wife, Julie, who earlier had been a student in one of my mathematics classes, to get me some early background on John's own writing career. Using that information, and other things I managed to round up, I built my piece about John. I handed the paper in, and when he came in the next week with the papers, he gave me what is known as the evil eye. "See me after class," he said. Which is, of course, about the last thing a student likes to hear.
I did, and learned that a big problem with my project was that he'd not wanted some of what Julie had obtained for me to be known, let alone shared with me, and he had given her some grief about it. In the long run, though, it turned out to be okay, both with her and with him, although I suspect I didn't get an "A" on the paper.
John is a native Idahoan. He was born in a hospital in Sun Valley and has lived in the Sawtooth Valley much of his life. Some twenty years ago, John and Julie moved from the Boise area, abandoning jobs and access to most modern conveniences, to settle in the house in the Sawtooth Valley where he and his parents had lived. I'm speculating that twenty years ago, the valley still hadn't changed much in the previous few decades, but change was on its way. As the years went by, the Rembers saw the decrease of snow on the peaks to the west, the not-so-blue skies, the reddish sun. The area drew more and more people hoping to escape the outside world but bringing much of it with them. Traffic along the road in front of their house resembled that of an interstate highway.
On the first day of spring in 2020, John began writing a weekly blog, which he plans to continue writing through the end of the 2020-21 winter. It chronicles things happening in the Sawtooth Valley, including the current and possible future impacts of the COVID-19 pandemic.
"I put up my first journal of the plague year on the first day of spring this year and will end regular publication on the last day of winter, 2021," he told me. "I got the idea from Daniel Defoe's 1772 book, A Journal of the Plague Year, about the bubonic plague in London in 1665. If the COVID pandemic is still going on when I finish my year, or if we have another plague by then, I'll be writing an epilogue or several. I was well aware that we were in the middle of a pandemic when I began, because it cancelled my book tour. The journal is in lieu of a book tour."
The book tour was meant to be for his latest collection, a hundred little pieces on the end of the world (University of New Mexico Press, 2020).
"The book was released in March of 2020," he said. "It was mostly written over a decade, either as newspaper columns or as essays in response to doomsday blogs, and was rewritten in 2019. A lot of speculation, some of it very dark, was being published. I decided that just witnessing what I was seeing in my own small orbit, and writing down my thoughts about what I witnessed, would be what I could bring to the discussion. In particular, I decided not to predict the future, but instead to predict the present, which is hard enough. I could not have envisioned that the pandemic would change the book from a discussion of dangers to prophecy."
John's blogs disclose how much things have changed in the Sawtooth Valley just in the past year. In one blog, he describes a visit he and Julie took to one of their favorite haunts, Redfish Lake. There they found the parking lots crowded to the limit, and more. Vehicles idled as their occupants waited for someone to vacate a spot. There wasn't an empty place to sit on the beach or even on the lawns. And no one appeared to be wearing masks.
On one of my visits to the Rembers, I took along my metal detector. John had told me about the history of their property and I thought there might be something interesting to find. Unfortunately, there wasn't much but river rocks.
Disappointed at my efforts to discover buried treasure, I asked, "Do you do any fishing in the river?" The Salmon River bounds their property on the west.
"Not anymore, "he replied, "but I did when I was a kid. There's a photo on my web site of me holding up a fish. My father was a fishing and hunting guide in this area. He would take clients down to the river here, with the guarantee that they would catch at least one salmon."
For centuries, this area was the final destination of many thousands of sockeye salmon, which turn red when it is time to spawn, hence the name of Redfish Lake. But when dams were built on the Columbia and Snake Rivers, the numbers of sockeyes that returned to their spawning grounds began to diminish, to the point that in 1992, just one—one—sockeye salmon, since dubbed Lonesome Larry, returned to the Sawtooth Hatchery above Stanley. Larry's journey covered nine hundred miles, past all the obstacles between the Pacific Ocean and the upper Salmon River.
"Fishing just isn't what it used to be," John said. "People will pull into the access point just south of here and set up camp, and spend the day catching newly-released hatchery fish. They almost always leave a mess, too."
In one of John's blogs he describes one of his and Julie's "outdoor activities": after the summer and fall crowds thin out, they go around the area cleaning up campsites.
The title of John's latest book, a hundred little pieces on the end of the world, refers to its ten chapters, each of which has ten sections. That alone tells a lot about the direction of the book, but certainly not all. John is widely-traveled and very well-read, and is an excellent writer. He's not an optimist, nor is he a doomsayer. One of the things he told his writing classes was not to be afraid to confront the tough questions, and he has never failed to follow his own advice. He doesn't pull his punches and he tells the truth. Only by reading the book will a person understand John and the way he perceives what is going on in this crazy world of ours.
The titles of the first and last chapters are, respectively, "the way we live now" and "the way we live now, again." Two of the other chapters are entitled, "American history backward" and "Is civilization too dumb to live?" The latter explores the possibility that "being smart" will eventually become outmoded, and "not being smart" will become the order of the day.
The chapters bear on different aspects of John's personal life, his philosophy, his teaching, his experiences, and his thoughts on events past, present, and (possibly) future. In numerous places he refers to the Second Law of Thermodynamics, which states that any natural process in an isolated system progresses in the direction of increasing disorder of the system. Just look around and you will see plenty of examples of this second law.
One piece describes a visit to Southeast Asia, when John and Julie experienced something surprising to me: the growth of tourism in Vietnam and other countries that had been embroiled in the twenty-year-long conflict referred to as the Vietnam War. Much of the new building they saw was of hotels and other tourist accommodations. "Do you want a tour of the Killing Fields?" they were asked by a Cambodian guide. They declined.
Another piece deals with the real and imagined discussions John had, and may still have, with a student who had lived years with an ultimately fatal disease, and who died before finishing one of John's classes, leaving a unique legacy.
Paul R. Erhlich, author of the 1968 book The Population Bomb, wrote in a preview of a hundred little pieces, "A brilliantly written, deeply thoughtful, and even humorous book about a very dark topic. I hope civilization will live long enough for it to be published for all to enjoy and contemplate."
John didn't get enough across to me in his classes to enable me to say things in the way Paul Erhlich could. I'll just say: Read the book.
John Rember's a hundred little pieces on the end of the world is available through the University of New Mexico Press, IndieBound, Powell's, and Amazon.