My Walk in the Frank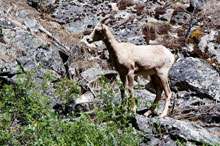 Days Undimmed through the Decades
By John "Stan" Stanfield
The memories ebb and flow, from crystal clarity to blurry amalgam. Some things do not dim: the sight of the night sky full of brilliant stars, the smell of pine and smoke sticking to one's clothes, the bend of the rod and pull on the line, and the sparkling flash of a fish as it breaches the water's surface. These do not fade.
One recollection arises with the sweet warmth of the first day of spring, when the snow in Boise is almost melted. This was the morning of a day captured by my mind's eye in memories that leap into clear view, beckoning me to enter and tarry again in the Frank Church–River of No Return Wilderness. A wide expanse of wild country in central Idaho, it has gone by other names, most with "wilderness" in them—which is apt, as the Frank contains more than two million untrammeled acres.
At age fourteen in the late 1960s, when I was full of beans, I got the opportunity to spend a week in the high country of the Frank. Our band was five boys passing from childhood into manhood led by two men in their twenties who were as different in philosophical, political, and cultural outlook as their appearances. One was mid-sized, stocky, with strong arms and shortly cropped yellow hair. The other was tall, lanky, with hard muscles and sable hair long and braided. Both were passionate about the outdoors. They were true mountain men living in a modern era.
My kit consisted of the clothes and new boots I wore and a hand-me-down backpack with canvas straps. I also had a well patched and faded army surplus sleeping bag, a small jackknife, a Boy Scout mess kit with metal utensils, canteen, extra pairs of white high-top socks and such, a basic rod, reel, a mix of spinners and single barbed fish hooks, and a tiny tent. My pack was filled to the brim with the gear and with my share of the food to carry.