On Tour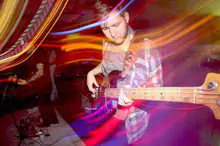 An Idaho Band Hits the Road
Story by Christopher Bock
Photos by Joseph David Lockhart
The trend over recent years of downloading tunes cheaply from the Internet has made it financially imperative for musicians to go on tour, as often and long as possible, to promote their CD or vinyl releases. It's a tough way to make a buck, but the right frame of mind helps. Boise band RevoltRevolt recently went on a nineteen-date tour of the western United States to promote a new EP. Christopher Bock, the group's founder, guitarist, and singer, sent IDAHO magazine observations from the beginning and end of that road trip:
May 6
We loaded in early to the Flipside Lounge in Pocatello, parked the rig, and hit the closest espresso joint to shake off the cragginess. It's the first gig on a nineteen-date tour, and everyone is getting along. So far. This time out we have two bands—RevoltRevolt and a punk band supporting us called Mindrips—which means eight guys in a RV pulling a trailer. It sleeps six in beds, one person takes the floor, and I take the roof. Viva la stench!
Touring is one of my favorite parts about playing music. Getting out of town gives you perspective, helps you to see things in a larger sense. Every day is a new day, and all the faces you encounter outside of your group are new, too. Each place we play has character, and is full of its own characters. At one club, for example, rumor had it that some dude grounded his amp wiring wrong, and when he stepped up to the mic to sing, it shocked him so bad he peed his pants. I always watch my amp ground switch wherever we play—and bring my own mic.