North to Heyburn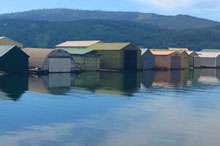 A Tale of Two Fishing Trips
Story and Photos by Kimberly Landon
The first time I went pike fishing, five years ago, my dad and I packed the old SUV to the gills with various spinner baits, all-weather clothing, and more food than either of us would know what to do with.
We headed north to Heyburn State Park, to fish with Dad's buddy Ron. Up until then, those two had taken an annual, man-only trip, but this year I was allowed to crash the party. As we drove through the canyon between New Meadows and Riggins, Dad quizzed me on the names of several songs by ZZ Top, AC/DC, Def Leppard, and Ted Nugent. A moose waded nonchalantly into the waters of the Salmon River, and I tried to be the first to spot a deer.
Five years later, on a placid morning at Lake Coeur d'Alene, my husband Brock and I walk down the marina docks, following Ron to his boathouse. Barn swallows dart in and out of the rafters as we tie on our tackle for the day, and Ron teaches me the first fishing knot that I can remember to tie on my own. Once we pack our food and emergency rain clothes into dry storage, we head out past the pilings towards our first stop for the day, the Mill Pond. I smile at the sight of Brock experiencing for the first time the sheer speed of the boat as we power under the Chatcolet Bridge.