November 2019 Calendar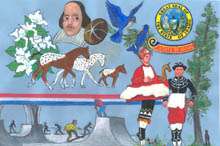 By Les Tanner
In spite of our efforts to ascertain that events listed in our calendar are described accurately, cancellations or changes due to weather, illness of performers, and other such things, although rare, are bound to occur. Double checking with the event coordinators about locations, dates and times is always a good idea. Details about many of the following events can be found at idahocalendar.com
Northern Idaho
2 Holiday Craft Fair: Trailhead Event Center, Post Falls
2-3 "Vision": Two-day pop-up art event featuring regional and nationally recognized artists. 10 AM–5 PM. both days. Little Pink House Gallery, Genesee
5-26 BabyTime: TUESDAYS. 10:30 AM, Library, Moscow
6 Chinese Movie Night: China Central Television reporter Chai Jing, known as "China's Al Gore", examines the effects of air pollution on the populations of China's large cities. Free. 7 – 9 PM, Kenworthy Performing Arts Centre, Moscow
7 Well~Read Evening Book Club: 6PM to 7:30PM at The Well Read Moose, Coeur d'Alene
8-9 Rebel Junk Holiday Vintage Market: Kootenai County Fairgrounds, Coeur D'Alene
16-17 Christmas Fair: Browse vendor booths, Santa story time, face painting, ornaments, and coloring activities. Hours: Sat 9am-4PM; Sun 10am-3PM, Bonner County Fairgrounds, Sandpoint
29-30 "'Tis the Season" Arts and Crafts Show: Festive shopping from area craftsmen. Located at Hills Resort, Priest Lake
29-12/1 Autumn's Loft Holiday Open House:
10 AM – 5 PM, Priest Lake
30 "Deck the Halls" Festival Tree Viewing: 1-5 PM, Garden Plaza, Post Falls
Southwestern Idaho
1 Patricia Marcantonio, Author: 7 PM, Rediscovered Bookshop, Boise
1-2 Craft and Chocolate Affaire: Chocolate bay and fountain, Santa Claus, local entrepreneurs, tasty food and more. Free admission. Hours: Fri
5PM-9PM; Sat 10 AM-4 PM, Civic Center, Nampa
1-3 Fall Flights at World Center for Birds of Prey: Watch as raptors swoop and soar over your head showing off their amazing aerial skills. 3-4 PM. Please arrive no later than 2:30 PM for seating, may sell out before that time, especially on Saturday. World Center for Birds of Prey, Boise
1-12/15 "Trueblood Memories" Exhibit: David Hayes' homage to Ted Trueblood. The Trueblood Gallery, second floor of the Student Union Building, Boise State University. Free admission. Boise
2 Forb and Shrub Planting: Help plant sagebrush, rabbit brush and other perennials. Volunteers contact 208-467-9278. Noon to 3:00 PM, Deer Flat NWR Visitors Center, Lake Lowell, Nampa
2 Museum Work Day: Lunchtime Seminar (bring your own lunch): Speaker, Dr. Eric Yensen: "Coexistence of Columbian and Northern Idaho Ground Squirrels: Competition or Habitat Separation?". O.J.Smith Museum of Natural History, Boone Hall, The College of Idaho, Caldwell
2 Veterans Day Parade: Parade Theme– "Letters From Home, A Tribute to the Support Given to the Soldiers, Airmen, Sailors, and Marines While They Were Away From Home". Downtown Boise
2 "Coco": Free movie to celebrate Day of the Dead. 8-11 PM, Starlight Cinema, Caldwell
2-30 Capitol City Public Market: Saturdays, Boise
4 Nerf Battle: Bring your Nerf guns for an epic battle! Darts and some Nerf Guns are provided. Ages 12-18. Reserve your spot by emailing Eric at [email protected]. 4:30-5:30 PM , Victory Branch, Ada Community Library, Boise
4-25 MMM (Meet Me Monday): MONDAYS. Free weekly walk/run. 5:15 PM, Flying M Coffee, Caldwell
5 Kilroy Coffee Klatch: 10-12 at Nampa's Warhawk Air Museum; FREE for ALL veterans and ALL veterans are welcome; Coffee and breakfast treats are served at no charge. Nampa
5 Conversation Club: For families where the kids speak English, but the parents are still learning, or where the parents haven't been speaking Spanish in the home and would like to refresh their skills while their kids work on Spanish. We are encouraging families to learn and practice together. Work on your English and Spanish language skills, with fun activities and conversation. 11 AM, Public Library, Caldwell
6 Birding Class: Feeding and Identifying Common Feeder Birds. For adults. 9 -10 AM, Foothills Learning Center 3188 Sunset Peak Rd., Boise
6-20 Girls Who Code: WEDNESDAYS. Ages 7-18. Girls build character and coding skills, teamwork, communication, functions, variables, conditionals and loops. Register by email: dram[email protected]. 6:30 PM, Victory Branch, Ada Comm. Library, Boise
7 First Thursday: 5 PM, Downtown Boise
7 Holiday Crafts: Make holiday-themed crafts. For the whole family. 6:30 PM, Public Library, Caldwell
7-28 Bingo: Thursdays. 7–9:30PM. Elks Lodge, Weiser
8 "Dentistry From The Heart": Dr. Vincent Rigby and his team provide free extractions and cleanings. Starting at 10 AM the team will treat the first 50 patients, or however many they can service by 4 PM Registration begins at 9:30 AM, first-come, first-served. Location: 9733 W. Ustick Road, Boise
8 Scott Kritzer, Classical Guitarist: 11 AM (45-minute Sensory-friendly/Special Needs Concert offers accommodations in lighting and sounds for patrons of all abilities.) and 7 PM, Main concert. Jewett Auditorium, C of I, Caldwell
9 Foothills Family Day, "Animal Migrations": Learn where animals live in the winter and how they get there! Crafts, science experiments, and more. Free program. All are welcome! 10 AM – 1 PM, Foothills Learning Center 3188 Sunset Peak Rd, Boise
9 Veterans Breakfast: Veterans, Active Military, and their families are invited. Free pancakes, eggs, hash browns, and orange juice. 8 AM – Noon, Senior & Community Center, Eagle
9 Veterans Appreciation Raffle and Bazaar: Vendors, raffle, games, and kid's activities. Free admission. Hours: 9 AM – 3 PM, Kleiner Park, Meridian
9-10 Treasure Valley Flea Market: Admission $2. Expo Idaho, Garden City
11 Veterans Day at the Rec Center: All veterans and military members are invited to spend the day. Shoot hoops, work out, swim in the pool or relax in the sauna, join us for a FREE day of recreation. Thank you for your service! Rec Center, Nampa
12 Story Trail Adventure: Bring your preschooler to walk our ¼ mile trail and read a story together. Afterward get creative with a story-related craft. 10 – 11 AM, Foothills Learning Center 3188 Sunset Peak Rd, Boise
15-17 Teen Fall Ambassador Retreat: McCall
16 WaterShed Weekend, "Map Mania": Learn how mapping and geography help us understand our world with robot races, go on safari, geocaching (modern day treasure hunting), map watersheds, and create your own maps. Free activities, 10 AM – 1 PM, Boise WaterShed, 11818 W. Joplin Rd., Boise
16 Family Afternoon Movie: Free popcorn. 2 PM, Public Library, Caldwell
16 Christmas is Coming to Kleiner Park: Free admission. Hours: 9am-3PM, Meridian
18 An Evening with Bob Ross: Ages 12+. Paint along with Bob and the librarians. Registration required (208-459-3242). 6:30 PM, Public Library, Caldwell
20 Early STEAM: Ages 0-8. Hands-on activities to learn about Science, Technology, Engineering, Art and Mathematics. 10:30 AM, Public Library, Caldwell
21 Tour of the Hillside-to-Hollow Reserve: Learn the history of and plan for this special place. Register at 208-608-7680 (Activity #119966-03). Free for all ages. 5:30 – 6:30 PM. Meet at Healthwise Parking lot, 2601 N Bogus Basin Rd, Boise
22 Winter Wonderland Festival: The Caldwell Street Dept. decorates Indian Creek with nearly a million lights! Mayor Garrett Nancolas 'flips the switch' to turn on the beautiful lights at this free family-friendly, fun-filled festival. 6 – 9 PM, Caldwell
22-24 Canyon County Christmas Show: Shop a diverse array of unique gifts and holiday items. Meet Santa and enjoy a variety of activities. Admission: adults $5, seniors $4, children 12 and under free. Free parking. Hours: Fri 11 AM-7 PM, Sat 11 AM-7 PM, Sun 11 AM – 5 PM. Idaho Center, Nampa
23 Family Glow Dance: Live DJ, black lights, glow in the dark toys, refreshments, photo booth available for your own fun social media posting. Bring the kids, aunts, uncles, cousins, and grandparents for a night out with the family! All are welcome. Member: $9/person; Non-Member: $11/person. 7:30-9 PM, Nampa Rec Center, Nampa
23 Boise Holiday Parade: Annual parade ushering in the Holiday Season. The parade's theme: "The Most Wonderful Time of the Year." Grand Marshal, Dr. Bob Kustra. 10 AM, 10th and Jefferson, Boise
25-27 Thanksgiving Break Drop-In Program: Gobble your way to fun. Crafts and activities with a Thanksgiving theme. 10 a.m. to noon. Ages 4 and up: Boise WaterShed, 11818 W. Joplin Rd., Boise
26 Adulting 101: A workshop series focused on skills and resources necessary for successful adulthood. For ages 15+. November topic: Insurance/Open Enrollment. 6:30 PM, Library, Caldwell
28 LAPS before NAPS: Get laps in before your after-turkey naps. Bring 4 items of canned or non-perishable food for free entry. Supporting the Idaho Food Bank. 5 AM – Noon. Rec Center, Nampa
29 Holiday Tree Lighting: 5 PM, The Grove Plaza, Boise
29 Idaho Food Bank "Empty Bowls": An intl. project to fight hunger. Select a unique bowl and then enjoy a hot bowl of soup. Bowls start at $10, providing enough food for 50 meals. The Grove, Boise
30 Small Business Saturday: Kick off your holiday shopping season in downtown Boise
30 N-Scale Model Railroaders & Santa: 10 AM-5 PM, Old Boise Leasing Office. 106 N 6th Street, Boise
Central Idaho
1-29 Story Time: WEDNESDAY and FRIDAYS. All ages are welcome. Books and crafts designated for children ages of 2- 4 will be available during story time, also. 10:30 AM to 12:30 PM, Public Library, Hailey.
11 Veterans Day Dinner: American Legion Hall, Challis
11 Wood River Orchestra Fall Concert: Free. 4 PM – 5:30 PM, Performing Arts Theater, Hailey
12 Mountain Humane's Cat Cozy Club: Enjoy coffee, knit cat cozies for adoptable cats, and meet new friends! 11 AM – 1 PM at the Cat Café, Hailey
15-30 "Behind the Sagebrush Curtain: Women Modernists in Idaho and Montana": Exhibit featuring Idaho and Montana artists. Monday-Friday, 9 AM-5 PM; Evening Exhibition Tour on November 19 at 5:30 PM. The Center, Ketchum
22 Thanksgiving Dinner: Cobbley Senior Center, Challis
Southern Idaho
6 National Dance Company of Siberia: 7:30 PM, CSI Fine Arts Auditorium, Twin Falls
8-10 Harvest Time Festival: Fine art, fine craft, crafts, film and homegrown products. Admission: $3 – $7. Expo Center, CSI, Twin Falls
Eastern Idaho
1-30 "Darwin & Dinosaurs" Exhibit: Walk among dinosaurs and trace how their discovery in the 1800s inspired Charles Darwin to explore how life has adapted and changed over millions of years. 85 rare artifacts from Darwin's work, and voyage on the HMS Beagle. Museum of Idaho, Idaho Falls
5 Family Friendly Films: Ages 12-17. Free. 4 PM – 5 PM, Madison Library, Rexburg
5-26 Weaving, Spinning, and Fiber Arts Guild: TUESDAYS. Members, and non-members interested in joining, encouraged to bring a project and join the conversation with fellow fiber artists. 7 to 9 PM, 482 Constitution Way, Suite B-11, downtown Idaho Falls
9 Concert, "Experience the Planets": With a newly-produced Multimedia Extravaganza, the Idaho Falls Symphony will sound otherworldly! 7:30 PM – 9:30 PM, Civic Center for the Performing Arts, Idaho Falls
9 "Muggle Magic, Fantastic Beasts": 11 AM – 3 PM, Idaho Museum of Natural History, Pocatello
9 Bazaar & Craft Fair: Visitors will have an opportunity to find thousands of handcrafted and one-of-a-kind items for the holiday gift giving season. Free admission. 10am-4pm , Bonneville High School, Idaho Falls
11 Veterans Day at Lava Hot Springs: The World Famous Hot Pools offers all Veterans free entry all day. Thank You for your service. Lava Hot Springs
15-16 Holiday Market: Decorations, crafts, quilts, clothing, make-up, woodworking, holiday baking classes, kid's craft project, and stage entertainment. Admission: $3, and children 12 and under free. Fri Noon – 8 PM, Sat 10 AM – 6 PM, Pinecrest Event Center, Idaho Falls
29 Festival of Lights: 2 PM, Preston
29-30 Christmas Festival, Parade & Small Business Saturday:
3 PM, Old Town Pocatello