October 2018 Calendar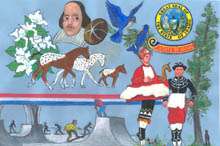 By Les Tanner
Cancellations or changes due to weather, illness of performers, and other such things, although rare, are bound to occur. Double-checking with the event coordinators about locations, dates and times is always a good idea.
1 Beekeeping for New-Bees: Learn the basics of beekeeping and how you can get started. Ages 18+. 6:30-7:30 PM, Public Library, Caldwell
1-29 Souper Supper: MONDAYS. Weekly hot meal served for Free – Open for all, St. Charles Catholic Church, Hailey
1-29 Storytime: MONDAYS, Stories for ages 0-2. !0:30 and 11:00 AM. Public Library, Caldwell
1-29 BINGO: MONDAYS. 7:00-8:00 PM, Senior Center, Weiser
1-31 Lincoln County Crossroads Farmers Market, Shoshone
1-31 "Discover Steampunk": A visually stunning exhibit featuring great thinkers of the 19th century, such as Jules Verne, H.G. Wells, and Charles Babbage, and the "futuristic" innovations they envisioned. Museum of Eastern Idaho, Idaho Falls
1-31 Scarecrow Stroll: Members and guests of all ages can join in on the fun by voting on their favorite scarecrow. 9:00 AM-7:00 PM, Idaho Botanical Garden, Boise
2 Project LINUS: A local group that makes blankets and quilts for children in crisis in the Pocatello area. 1:00-4:00PM, First Presbyterian Church, Pocatello
2 Kilroy Coffee Klatch: 10:00-12:00 at Nampa's Warhawk Air Museum; FREE for ALL veterans and ALL veterans are welcome; Coffee and breakfast treats are served at no charge. No RSVP required – just show up; Nampa
2 Young Readers: Ages 6-10. Book discussions and activities. Parents are welcome to attend with their child, but not required. 4-5:00pm, Book People, Moscow
2 Art Endeavor: Interested in learning and doing more about art? All ages welcome. 4:30-6:00 PM, Public Library, Nampa
2-31 Storytime: TUESDAYS and WEDNESDAYS, stories for ages 2-5. 10:30 AM, Public Library, Caldwell
3 Birding Series: Free program for experienced and novice birders alike. Tips on birds in the Boise area and beyond! Bird books and binoculars are available to borrow. 9:00-10:00 AM. Foothills Learning Center, Boise
3 Toddler Wednesday: Children ages 2-3 with an adult are invited to explore art media related to Boise Art Museum's exhibitions. Dress for mess! Free with the price of admission. Members FREE, Boise Art Museum, Boise
3 The Club: For teens with disabilities. Music, crafts, games, movies, and more. 2:30-3:30 PM, Public Library, Nampa
3-31 Chess Club: Meets WEDNESDAYS after school at 5:30 PM at the Community Campus, Hailey
3-31 Music and Movement: WEDNESDAYS. Activities for ages 2-5. 11:15 AM, Public Library, Caldwell
3-31 Story Time: WEDNESDAYS and FRIDAYS. Free. Books and crafts designated for children ages of 2- 4 will be available during story time. All ages are welcome. 10:30 AM- 12:30 PM, Public Library, Hailey
4 Farmers Market: 1:00PM, Soda Springs
4 Light the Night: This walk funds treatments that are saving the lives of patients today. Friends, families and coworkers form teams to raise money to support the mission of the Leukemia & Lymphoma Society. 7:30 PM, Cecil D. Andrus Park, Boise
4 Gallery Walk: See art by regional and national artists, as well as to enjoy demonstrations, live music, and refreshments. 5:00-8:00 PM, downtown Idaho Falls
4 First Thursday, 5:00 PM, Downtown Boise
4 Evening Book Club: 6:00-7:30 PM at the Well Read Moose, 2048 N. Main, Coeur d'Alene
4,18 Bingo Night: 6:30-9:00 PM, Lincoln County Community Center, Shoshone
4-25 TNT for Teens: THURSDAYS. Kids 10 and up meet to play video games. 4:00-5:00 PM, Public Library, Hailey
5-6 Harvest Festival and Street Fair, Emmett
5-7 Fall for History Festival, Wallace
5-7 Canyon County Fall Home Show: More than 100 companies, local professionals, home improvement specialists. Free admission and parking. Fri 5pm-9pm, Sat 11am-6pm, Sun 11am-5pm, Idaho Center, Nampa
6 Grange Annual Chili Feed, Clearwater
6 See Spot Walk: An Idaho Humane Society fundraiser. There will be vendors, contests, demonstrations, food and more! 9:00AM to 1:00PM, Julia Davis Park, Boise
6 Fall Harvest Celebration: Vendor and Craft Fair, Meridian
6 Long Camp Farmer's Market; Kamiah/Kooskia
6 Train Depot Open House; 12:00 Noon, Caldwell
6 Rock, Gem & Jewelry Sale, Idaho Falls
6 Museum Work Day: Volunteers welcome; 8:00AM; Lunchtime Seminar (bring your own lunch): Dr. David Douglass, VP of Academic Affairs: "Status of the College". O.J. Smith Museum of Natural History, Boone Hall, The College of Idaho, Caldwell
6 Walk to End Alzheimer's: Registration: 10:00AM, Walk begins at 11:30AM, Kleiner Park, Meridian
6 The Great Pumpkin Festival: This new festival on Main Street features the Portneuf Valley Farmers Market, apple pie baking contest, pumpkin painting, antiques, crafts, jewelry, food, music and more. Old Town Pocatello
6 Wildflower Walk: Free, rain or shine. Bring appropriate outerwear, sturdy walking shoes, water, sunscreen, hat, and lunch. 8:30 AM, Sawtooth Botanical Garden, Ketchum
6 Eagle Rock Outlaws Fast Draw Competition:1800's style fast draw shooting. Free to spectators. 10 a.m.–3 p.m., 10648 N. 25th E., Idaho Falls
6-7 Health and Fitness Fair, Expo Idaho, Garden City
6-7 Fall Harvest Festival: This family-friendly event celebrates the changing season with live music, food vendors, the Scarecrow Stroll, and kids' activities. 12:00 Noon-6:00 PM, Idaho Botanical Garden, Boise
6-7 Annual Salmon River Fall Art Show, Riggins
6-7 Oktoberfest Celebration, Lava Hot Springs
6-7 Idaho City Days, Idaho City
6-27 Farmers Market; SATURDAYS. 8:00AM-1:00PM, Main Street, Moscow
6-27 Downtown Farmers Market: SATURDAYS, Authentic Idaho Goods, Neighborhood Nourishment, Mama's Best Bakery, Grain and Sand, Wood River Naturals, Ballard Family Dairy and Cheese, The Wandering Wagon, Kula Kids Yoga, Muddy Moose and many more! 9am-1pm, Main Street, Twin Falls
6-28 "Fall Flights": FRIDAYS-SATURDAYS-SUNDAYS. Experience the majesty of raptors in free flight, witnessing the aerial prowess of a wide array of raptors. Starts promptly at 3 pm and lasts 30-45 minutes. Seating is limited. $10 adults, $8 seniors, $5 youth 4-16, free to members and children 3 and younger. World Center for Birds of Prey, Boise
7 Soup and Song: A Challis Arts Council event, Challis
7 Magic Valley Symphony Concert: 4:00 PM, CSI Fine Arts Auditorium, Twin Falls
7 Porsche Car Show, The Village at Meridian, Meridian
9 Middle-Grade Readers: Ages 9-14. Book discussions and activities. Parents are welcome to attend with their child, but not required. 4-5:00pm, Book People, Moscow
9 Indianhead Flyfishers Meeting, 7:00 PM, Idaho Pizza, Weiser
9 Make It! Craft Club: Get crafty and make something cool to take home. Materials provided. Ages 16+. 7:00-8:00 PM, Public Library, Caldwell
10 Morning Book Club: 10:00-11:30 PM, at the Well Read Moose, Coeur d'Alene
10,24 Adulting 101: Workshops for ages 14+ which focus on the skills and resources necessary for successful adulthood. October 10: Personal Safety; October 24: Internet Safety. 6:30-7:30 PM, Public Library, Caldwell
10-14 Trailing of the Sheep Festival, Ketchum
11 Thursday Afternoon Read: Discussions of the book of the month, Ages 18+. 2:00-3:00 PM, Public Library, Caldwell
11-13 Book Sale, Marshall Public Library, Pocatello
11-14 Treasure Valley Dog Show: Free. Hours 8:00 AM- 7:00 PM, Expo Idaho, Garden City
12 ArtWalk, 5:00-8:00 PM, Downtown, Coeur d'Alene
12-14,19-21 SpookTacular: Merry-not-scary Halloween Fun-Fest! Explore the zoo at night, displays, special entertainment, activities, and a few animal encounters all designed for families. Hours are 6:00pm-9:00pm on Fridays and Saturdays and 5:30pm-8:00pm on Sundays, Zoo Boise, Boise.
13 Apple Tasting History Tour: Tim Steury, owner of Steury Orchards in Potlatch, will guide a historical tasting tour of a selection of some of the 160 varieties he grows, such as the Roxbury Russet, the oldest variety bred in the United States. Admission: $15/person or $25/Family. Contact: 208-883-7084. 1:00-3:00 PM, Hamilton Indoor Rec Center, Moscow
13 Eagle Saturday Market and Harvest Festival: Free and Family Friendly. Pumpkin Decorating, Live Music. 10:00 AM to 2:00 PM, Heritage Park, Eagle
13 Harvest Fest. Sandpoint Farmers Market closes out the season with entertainment, food booths, activities, displays at Farmin Park, Sandpoint
13-14 RailShow 2018, Recreation Center, Idaho Falls
16 Free Food Pantry: 5:50-7:30 PM, Wilcox Fresh Warehouse, Thornton
18 Wild and Scenic Film Festival, ISU, Pocatello
19 Crafter's Club: Work on your favorite project–knit, crochet, embroider, you name it–with other crafters. Ages 18+. 2:00-3:30 PM, Public Library, Caldwell
19 "Art of Building a Community", Karcher Mall, Nampa
20 Walk About Boise, 11:00 AM. Meet at the bench in front of the Basque Museum, Boise
20 "Paranormal Investigations": Real-life ghost stories, Panoptic Paranormal Investigators. All ages. 2:00-3:00 PM, Public Library, Caldwell
20 Fall Festival! Create festive Fall-themed arts and crafts, like Pumpkin painting, explore the exhibit hall and take a silly harvest photo! Meet some live reptiles in the theater with Reptile Adventures! Finally, take a fun hay ride tour on the outskirts of the water renewal facility to learn what happens when you flush:10:15, 11:00, 11:45 and 12:30. Tours limited to first 25 people, weather-permitting. Boise WaterShed, 11818 W. Joplin Road, Boise
20 Fall Craft Mall: This is a vendor event, a fundraiser for the KJ DYW committee. Lunch from 11:00am – 2:00pm as well as pie. Get your Christmas shopping started early. 9am-2pm, Kendrick High School, Kendrick
20 Funtober Fest, Rec Center, Nampa
20 Golden Years Lifetime Expo: A Health, Activity, & Planning Expo for Baby Boomers and Seniors living in Idaho. This one-day expo is open to all ages. FREE admission for all attendees! 9:00 AM to 4:00 PM, Center Expo, Expo Idaho
20 Community Breakfast: Sponsored by the Veterans of Foreign Wars District #8; $5.00 donations, kids under 12, free. 8:00 – 11:00 AM, VFW Hall, Rexburg
20 Fall Craft Show: Free admission. Hours: 10am-6pm. Red Lion Hotel, Pocatello
20-21 October 20 & 21, 2018, Annual Show, Hells Canyon Gem Club, Lewiston
20-21 Treasure Valley Flea Market: You never know what you're going to find at a flea market. Bring home a new old thing to love. Sat 9am-5pm, Sun 10am-4pm. Admission:$2; seniors $1, children 12 and under are free. South Expo, Expo Idaho, Garden City
21 Pumpkin Carving at Riverfront Park, Kamiah
21 American Legion Breakfast, Challis
25 Music Adventures with Paige Moore; 6:00 PM, Meridian Library District, Meridian
25 Home School Day: For children ages 3-12. HAYRIDE and HIBERNATORS. Take a hayride tour of the water renewal facility and explore how animals get ready for winter. Pre-registration required at least a week in advance: email [email protected]. Boise WaterShed, 11818 W. Joplin Road, Boise
25 Trunk or Treat: Downtown Meridian becomes a festival of costumes as more than 100 businesses create mini-other worlds. Each and every one them has a treat for the kids! 6:00-9:00 PM, Downtown Meridian
26 Fourth Friday: Live entertainment, giveaways, local businesses, arts and crafts, family friendly activities and much more. Free admission.. Hours: 3:30pm-7:30pm. Spokane Valley Mall, Coeur d'Alene
26 Adult eARThworks: Learn about the different varieties of trees represented in our beautiful city. Work with a local artist to create and fashion a handmade shadow lantern, using local leaves. Pre-Registration is required: 208-608-7300. 6:00 – 9:00 PM, Boise WaterShed, 11818 W. Joplin Road, Boise
26 Baked Potato Bar Dinner Fundraiser, 4:30-6:00 PM, Lake City Center, Coeur d'Alene
26 Trunk or Treat so KIDS CAN EAT! Fundraiser to help local schools alleviate school lunch debt. 5:00 PM, 13900 West Wainwright Drive, Ste 103, Boise
26-28 Boise Fall Home Show, Expo Idaho, Garden City
27 Boo at the Zoo: 10:00 AM-5:00 PM, Zoo Boise, Boise
27 Lucky Peak Dam Behind-the-Scenes Tour: An "invitation only" behind-the-scenes tour of Lucky Peak Reservoir, as guests of the Army Corps of Engineers. 9:00 a.m. to 12:00 p.m. Learn history, flood control, fish and wildlife habitat, irrigation and recreation opportunities. Wear comfortable shoes and dress for the weather. Background checks required for all participants. Pre-registration is required, $10 per person. Light refreshments provided. Questions: (208) 608-7300 or email [email protected], Boise
27 Halloween Dodgeball Tournament, Rec Center, Nampa
27 Snakes, Lizards, and Spiders: Meet and greet some of our reptile and arachnid friends, courtesy of the Idaho Herpetological Society. Ages 5+. 1:00-3:00 PM, Public Library, Caldwell
27 Zoo Boo: 10:00 AM, Zoo Idaho, Pocatello
27 Halloween Family Concert: The Idaho State Civic Symphony brings fun and some fright with its annual family concert that's quite a delight. 10:00 AM – 12:00 Noon, Stephens Performing Arts Center, ISU, Pocatello
27-28 Idaho Gourd Society's 19th annual festival, Boise
27-28 Vintage Show and Artisan Market: Artisan handcrafts, antiques, handmade furniture, signs, jewelry, rustic, upcycled and reclaimed, repurposed and vintage items. Admission $7, kids under 12 are free. Sat 9am-6pm; Sun 10am-4pm, Ford Idaho Center, Nampa
31 Chamber of Commerce "October Costume Contest", Kamiah
31 Trick-or-Treat the Old Town Streets, Old Town Pocatello
31 The Life Center "Trunk-or-Treat", Kamiah
31 Trunk or Treat: This is a big deal and fun for the whole family. Judging for best decorated trunks will be done by the Chamber of Commerce and prizes will be awarded. Trunk or Treating will begin at 6:00 at North Fremont High School, Ashton