On Hoodoo Mountain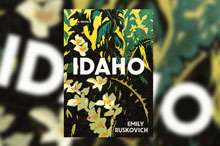 The Plot Arises for a Stirring Novel
By Lorie Palmer
When my editor at the Idaho County Free Press told me that Emily Ruskovich's parents lived in Grangeville, I went into geek mode.
"The author of Idaho? Her parents live here?"
In going on twenty-five years as community editor of the paper, I've had the chance to meet several celebrities: General Norman Schwartzkopf, country music artists Johnny Cash, Aaron Tippin, and Mark Chesnutt, and John Cooper of the band Skillett. I don't mean to diminish any of those encounters, but the thought of brushing sleeves with Emily Ruskovich had me intrigued. I spent four years at Northwest Nazarene University reading my way toward becoming an English literature major and, although I write for a living, it's different from those who are able to craft a complete novel that adds beauty, joy, and a message to the world.
My daughters and I had recently read the award-winning Idaho, and I had followed up by listening to it on audiobook through the library. Its beautifully expressed language and nods to all things northern Idaho made the story come alive for me. I was captivated from the opening paragraph:
"They never drove the truck, except once or twice a year to get firewood. It was parked just up the hill in front of the woodshed, where it collected rain in the deep dents on the hood and mosquito larvae in the rainwater. That was the way it was when Wade was married to Jenny, and that's the way it is now that he is married to Ann."