Pete Goes Climbing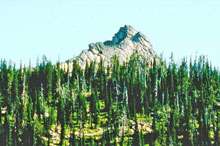 But Never Again
Story and photos by Ray Brooks
In August 1973, the first summer I owned an outdoor shop in Moscow, I took a retail client and inexperienced climber named Pete on an overnight climbing trip into the Selkirk Mountains. I knew there were a few grizzlies in the range, and mentioned this to Pete—after we got there.
As a 1970s hippie, I wasn't packing a firearm and didn't even have an ice axe along, since it was late summer and almost all the snow in the range had melted.
At age twenty-three, I had spent hundreds of nights in the outdoors, but only a few nights in grizzly country. At age twenty-one, Pete had spent very few nights in the outdoors, and it turned out he was apprehensive of grizzlies.