Pickle Cookies/Cookie Fudge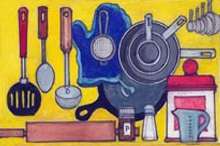 By Amy Story Larson
Pickle Cookies
INGREDIENTS
Ritz™ crackers
Dill or bread and butter pickle slices
Colby jack or cheddar cheese
PREPARATION
> Place crackers on baking sheet, top with pickle slices, then small slices of cheese, cut to size.
> Broil in oven for three minutes, or until cheese is bubbling and golden light brown.
> Can also be grilled in an air fryer for eight minutes.
NOTE: My mother believed in pickles and cheese snacks. We five sisters grew up on them. This is a new twist on one of our favorite hunger fighters, and the name alone sparks curiosity. I'm going to try them out for the grandkids (Trevor, age three, and Dejah, age two) who've loved pickles since their infancy, and see what they think.
Oreos™ Fudge
INGREDIENTS
About 27 Oreos™
Ziploc™ baggie
1 bag white chocolate chips
1 can sweetened condensed milk
Parchment paper
PREPARATION
> Place cookies in baggie, seal, then crush them.
> In a medium cooking pot, pour white chocolate chips and condensed milk. Cool over medium heat until melted and combined. Add Oreo™ pieces and stir.
> Line parchment paper into a square baking pan, then fill with mixture. Place half or quarter of cookies pieces on top for decor.
> Place pan in refrigerator for a few hours to set, and then cut into squares.
NOTE: They (anyone you are trying to feed, impress, or bribe) will go bonkers over this treat!