Plan A, Cramer Lakes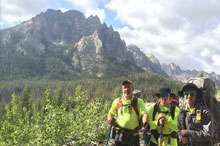 If the Crick Don't Rise
Story and Photos by Brandi Johnson
On a dramatic August morning, partly cloudy with a storm moving in, we awaken to the beauty of Grand Mogul and Mount Heyburn, two of many peaks in the Sawtooth Range.
I'm excited at the prospect of my first overnight backpacking trip, which will include a six-and-a-half-mile hike with a gain in elevation of about 1,826 feet and a stream to cross. Our destination is the three Cramer Lakes, lower, upper, and middle, deep in the Sawtooths.
My boyfriend Steve Shay, his son Kody, and Kody's best friend Wyatt Caviness have spent the night in the boat on Redfish Lake near a trailhead at the base of the Sawtooths. Our plan is to hike into Cramer Lakes, spend the night, and hike back to our base camp at Redfish for the remainder of our vacation. If the weather doesn't cooperate, there is a Plan B—but despite the threatening skies, we decide to brave the trail and cross the stream.