Rooster Tales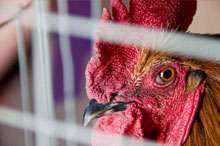 The Cock of Our Walk
By Geneva Trent
This is the country, and there will be insects and mice around," the home inspector explained to my real estate agent from the city. "But the rooster will take care of the bugs and the cats will take care of the mice."
I concurred, and we purchased the farmhouse in New Plymouth, complete with several cats and the free-range rooster. At first I was not sure I wanted the rooster in my yard, because I had heard stories of mean roosters attacking people and other animals. But I enjoyed waking up to him crowing each morning, and noticed he followed me around sometimes when I was working in the yard and garden, always staying just out of reach. I was also amused when I watched him eat out of the same pan with the cats. He seemed to like the cat food and did not hesitate to squeeze in between cats at feeding time. Several people told me I should get photographs of him eating with the cats, but I didn't do it and now I'm sorry.
One day my neighbor across the country road told me the rooster was the sole survivor of several chickens she'd had, and added, "If you don't like that rooster, just shoot him." I replied that he was very welcome to stay in my yard. And as the summer wore on, I was glad he was there. We had very few bugs, and I found only one earwig all summer long, because he ate them.
During the winter, it was amusing to watch the rooster jump through the snow to get from the spruce tree where he roosted at night to the cats' food on my carport. One of his favorite places was just outside the sliding glass doors of my basement. He seemed to enjoy keeping company with me as I worked on projects on the opposite side of the door.