Sage Acres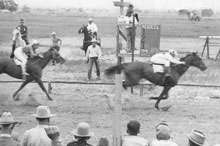 A Farmers' Racetrack
By Michael Vogt
Photos Courtesy of Michael Vogt
About a mile west of Farmway Road on Homedale Road near Huston—a farming community outside Caldwell that once was a center of Canyon County commerce—stood a racetrack named Sage Acres. Several times each year in the mid-to-late 1940s, horse races were held there: a dream realized by a small group of local farmers, who included my grandfather, Herman Vogt. The track had a variety of other uses, too, such as for riding drills in which the local saddle club participated. This is the Sage Acres story, which I assembled through interviews with the children of farmers who built the track.
Rob Greenfield: "There was just no money, and what could they do? They'd work all day and what could they do? They all had working horses, so it wasn't that much more hard to have a good saddle horse or running horse. And that's what they did for recreation. They couldn't buy boats or cars or trips, so that's what they did, and they worked at it. They had a good time. They had a good time, let me tell ya."
Wendell Platt: "I think I was about—I'm just guessing—a junior or senior in high school.
"They started on the top of the hill by West Canyon School, right on top of the hill there . . . They just went down through there and scraped the sagebrush off and had about a quarter-of-a-mile straight track, racing saddle horses over there, and of course everybody then started trying to find something that would outrun the neighbor, and that's kind of how it started.
"Then my dad bought a horse, maybe from Roesers [Caldwell's Jim Roeser was in the national rodeo finals for five straight years and was inducted into the National Reined Cow Horse Association's Hall of Fame]. It was a Thoroughbred. He'd been a racehorse—he was probably seven, eight years old. His name was War Brigadeer, and he was a son of War Admiral, who was a noted racehorse [winner of the Triple Crown]. And they got to running him up there. He'd run in formal races. They didn't have any starting gate, they'd just get out there and line up and say, "Go." Of course, he didn't know what "go" meant. Anyway, he kind of taught us something about the racing business. It developed from there, and then the saddle club [Huston Mustangs Saddle Club], I'll say a third of them, was interested and enjoyed it and they come over and bought Sage Acres, forty acres [unirrigated, on Homedale Road]. And they didn't give much money for it. I don't remember how much, maybe two thousand dollars, fifteen hundred dollars.