Shrimp Boil/Lemon Zucchini Bread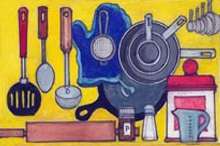 By Amy Larson

Elk Valley Shrimp Boil
INGREDIENTS
1 (12.8-ounce) package smoked Andouille sausage
1 lb. medium-sized peeled shrimp
1/3 c. sweet creamery butter
1 Tbsp. Old Bay seasoning
1 lb red and/or yellow baby potatoes
3 ears sweet corn
3 Tbsp. minced garlic
1 lemon wedge, one lime wedge, with extra wedges at time of serving
2 Tbsp. (or more) chopped cilantro
½ tsp. chili powder (optional)
Extra Virgin olive oil
To taste: sprinkling of chicken/beef bouillon granules, coarse black pepper, red pepper flakes
PREPARATION
> Preheat oven to 400 degrees. Prep a large baking sheet with non-stick cooking spray. Slice or dice potatoes, add a little butter to boiling water in a large pot, and cook until just starting to get tender (10-15 minutes). Add corn to the pot for the last few minutes, careful not to overcook. (Crookham Seed Company, experts on sweet corn, advised me in a food writing interview once that 'perfect' meant just above 3 minutes). Remove corn from husk.
> Melt together butter, a 'glug' of extra virgin olive oil, garlic, ½ of the chopped cilantro, and the Old Bay seasoning. Slice sausage into bite-sized pieces, place in pan. Layer potatoes, corn, and shrimp into baking pan. Pour on butter/oil mixture, and gently combine. Squeeze one lemon and one lime wedge over contents.
> Bake at 400 for 12-15 minutes, to the point that the shrimp is opaque/ white-ish color. At serving: top with chopped cilantro and lemon and lime juice to taste, as well as any hot sauces to spice things up even further.
Note: I went to my first Shrimp Boil at Elk Valley Resort over the summer. Hostess Kathi Lewis pulled out all the stops for our group, who arrived late due to our participation in the Pine-Featherville parade (and some unplanned jewelry shopping in Featherville).
"This is all yours," Kathi said, placing an enormous pot before us under our umbrella table. The five of us ate happily, listened to the music, people watched on the deck, and listened to kids splashing in the pool, with the occasional appearance of a visiting dog or two.
"This is my kind of heaven," I told my friends, Wendi and Marie, "This right here." We sat for hours, talking, laughing. Marie's husband John tried to teach me that crazy hand-slap game. He's lightning fast at it, and I lost miserably.
"Let's jump in the pool," Wendi's husband, John Combs randomly suggested. It was over 100 degrees outside. Most of us did, Kathi Lewis included. We've called her "Esther Williams" ever since.
Good food, good friends, good memories!
This is my altered version of a recipe found at damndelicious.net
Lymon Lemon Zucchini Bread
INGREDIENTS
1½ c. all-purpose flour
½ tsp. baking soda
¼ tsp. baking powder
¼ tsp. salt
¾ c. sugar
1/3 tsp. powdered ginger
1/3 tsp. coarse black pepper (optional)
1 c. finely shredded, unpeeled zucchini
¼ c. cooking oil or melted butter
1 egg, beaten
2 Tbsp. lemon juice
2 Tbsp. finely shredded lemon peel
GLAZE
½ c. powdered sugar
1 Tbsp. lemon juice
1 tsp. lemon zest
1 tsp. almond extract
PREPARATION
> Pour flour, baking soda, baking powder, salt, ginger, and pepper (optional) into a mixing bowl, combine.
> In another bowl, place sugar, oil, egg, lemon juice, lemon peel, and zucchini. Combine.
> Add dry ingredients from other bowl to zucchini mixture; stir.
> Place bread batter into a prepared bread pan. Optional idea: Grease pan, then add a layer of granulated sugar before putting in bread batter for a sweet crunchy crust.
> Bake at 350 degrees for 50-55 minutes or until golden brown. Let cool before removing from pan.
> Combine glaze ingredients and drizzle over the top, and if you like LOTS of glaze, you can double the glaze recipe!
Note: Growing up in eastern Idaho, with its wide open spaces and lower crime rates, I often felt free to roam. As a twelve- year-old, I'd throw snacks and some water into a plastic shopping bag, loop it around my handlebars, and be off for the day to places like Hibbard, Burton, Archer, and Lyman. Half the time, I'm pretty certain my mother had no idea where I was. When I got older, I returned to the Archer/Lyman area, picking raspberries for a summertime job. My picking row mate, Holly, recited lines from "My Fair Lady" through the branches and leaves. After work, we took to a nearby creek, letting the current carry us to the bridge, where someone turned up their boom box at the riverbank as we all sang along to Rick Springfield's "Jesse's Girl".