Smoke on the Water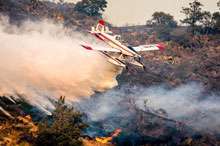 An Aerial Firefighter Arrives
By Mike Kincaid
Flying seaplanes in northern Idaho is fun, and part of that fun is meeting other pilots. A pilot with one of the coolest jobs I've met in Idaho is aerial firefighter Don MacDonald, who gained the favor of local residents when, returning from fighting fires north of Sandpoint in 2015, he was dispatched to a fire in Bayview, on the southern shores of Lake Pend Oreille.
Led by billowing smoke over the lake, he easily spotted the huge blaze, dropping what fire retardant he had onboard through limited visibility. Quickly diving his Fire Boss plane into nearby Buttonhook Bay, he scooped water from the wind-blown swells, but the rough water and downdrafts proved to be hazardous. He was joined by another Fire Boss, and the two pilots regrouped. Flying a few miles to find a sheltered bay with two feet of chop (choppy is good, Don told me), both planes scooped, returned to the fire, then went back and forth to make continual water drops.
Their efforts paid off. At least one house took a direct hit of fresh lake water, saving it from the surrounding flames. Don didn't know if it was the other pilot or he who made the house-saving drop, but he said that's what makes his job worth it. He modestly added that people on the ground put the fire out, and the pilots take the intensity/heat, so the ground crews can do their jobs.