Standing Up to Hate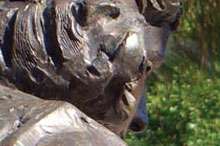 How a Vandalized Memorial Brought Idahoans Together
By Dan Prinzing
In 2017, I was taken aback when a national reporter covering an attack on the Idaho Anne Frank Human Rights Memorial asked if that act of hate represented who and what it means to live in Boise. The memorial had been vandalized with racist and antisemitic language etched into its stone. As executive director of the Wassmuth Center for Human Rights, the builder and home of the memorial, I knew our group had to both ask and answer that question. Yet it seemed to me that the best answer actually would lie in the community's reaction. How would we respond when confronted by hate? It wasn't a rhetorical question.
To help answer it, our group began by recalling our own organizational history—and the shoulders upon which we now stand.
The center was named for Bill Wassmuth. In the 1980s, while a priest at St. Pius X Catholic Church in Coeur d'Alene, Bill found himself confronted with the misuse of theology for hateful aims by white supremacists settling in northern Idaho. As chair of the Kootenai County Task Force on Human Relations, he lived through the bombing of his home and built coalitions to battle the racist Aryan Nations. After leaving Coeur d'Alene and the priesthood, marrying, and settling in Seattle, Bill continued his successful activism as director of the Northwest Coalition Against Malicious Harassment.
In his book Hate Is My Neighbor, written with Tom Alibrandi, Bill said, "To ignore hate groups, even though they usually include relatively small numbers of people, is to miscalculate the impact that they can have on a community."
When Bill died in 2002, then-Idaho Governor Dirk Kempthorne stated, "Bill Wassmuth was a bright beacon in the gloom of hatred and evil."
One of Idaho's great human rights heroes, he became the nemesis of those who preached hate. As one source of our inspiration, Bill Wassmuth reminded us that hate wins if we cower in silence.
In her diary, Anne Frank questioned, "Who has inflicted this on us? Who has set us apart from the rest? Who has put us through such suffering?"
My coworkers at the center and I had to ask a similar question. Who had inflicted this vandalism? Who had felt emboldened enough to enter the symbolic heart of the city to target and demean members of our city? Boise Police Chief Bill Bones declared the act a hate crime, and Senators Cherie Buckner-Webb and Chuck Winder stood in the memorial and denounced the act as "evil in our community."
Why us?