Still Dancing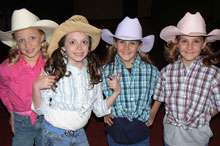 Almost Six Decades in the Studio
By Lorie Palmer
I grew up in a non-dancing family. Our church didn't allow it back then, and after I moved to Grangeville, I was a little afraid to sign up my oldest daughter, Avery, for dance class.
Probably only a few non-dancers would know the strange reaction I had upon entering a dance class for the first time. It was like walking into a hall where my hearing was muted and even my vision of the students was blurry.
By the time my daughter Hailey was old enough to take dance, I felt more familiar with the experience. Now a high school freshman, Hailey began dancing in preschool, which was the first time I met Shirley Wilson Sears. Right away, I knew she meant business.
At age seventy, Shirley can still be found tap dancing and talking to her students in a firm yet loving manner. "You guys look pretty awesome. Just think if you practiced more, how much better you would look. You know I always want more, right?"
By the age of thirteen, Shirley had already found and entered her calling. "I had taken dance from ages four to twelve, then my teacher moved. Every time I walked into the Craigmont Post Office, the postmaster, Ollie Acheson, would ask me to teach his daughter to dance. Finally, I gave in and started with four kids—then it grew."
In 1956, Shirley's Dance Studio was founded in Craigmont. Throughout the years, she has taught in many towns across the prairie and Palouse: Nezperce, Winchester, Orofino, Lewiston, Kendrick, Moscow, Oakesdale, Grangeville, and Pullman, Washington. She's now based in a small studio under the trees on Seventh Street in Clarkston, Washington.
"I ended up with about thirty kids in the Craigmont dance class. I didn't really know what I was doing. The good thing was, I could dance and I was creative."