Esther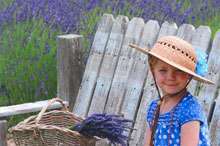 Amid the Lavender
By Carolyn Fletcher
Last summer, I was interested in taking photographs of lavender fields as they came into bloom and I watched for advertisements or Facebook postings about local farms. Fortunately, I set out on opening day because upon arrival, there were many people anxious to cut their lavender bouquets. The rows were getting mowed down really fast.
There was an old wooden Adirondack-style bench in the yard with the lavender fields in the background. I had arranged a basket on one side of the seat with some lavender stalks and prepared to frame the photo. A little girl was sitting on one end of the bench and seemed to have no intention of moving. She was a lovely child with a pert smile and a perfect hat. Since her father was near, I asked permission to take her picture. Dad said yes and we exchanged email information just in case the photo came out well.
That's the story of "Esther." When the picture was judged the winning entry in IDAHO magazine's 2014 Cover Photo Contest, I met with Esther and her dad after receiving the monetary prize. I decided that the prize belonged to Esther. Without her, there would have been no photograph. After all, I just had the good fortune to be in the right place at the right time!