Sugar Cookies/Spring Salad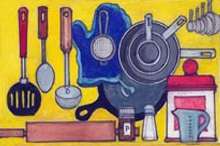 By Amy Larson
Jalaine's Old-Time Sour Cream Sugar Cookies
COOKIE INGREDIENTS
2 ¼ c. flour
½ c. butter
1 egg
½ tsp. baking soda
½ c. sour cream
1 c. sugar
1 tsp. vanilla
1 tsp. baking powder
½ tsp. salt
PREPARATION
Combine butter, sugar, egg, vanilla and cream together. In a separate bowl, combine flour, baking powder, baking soda, and salt, then add to butter and sugar mixture. Stir in sour cream. Roll dough onto floured surface and cut into desired shapes. Bake at 370 degrees on ungreased cookie sheet for 7-9 minutes.
Creamy Cream Cheese
Frosting INGREDIENTS
1 pkg. powdered sugar (2 lbs.)
4 oz. softened cream cheese
½ c. butter
2 tsp. vanilla
Milk—enough for desired consistency
1 Tbsp. shortening (this makes the frosting fluffier)
PREPARATION
This recipe was originally shared in an old church cookbook by Jalaine Garner, who says, "I soften the cream cheese for 20 seconds in the microwave. I use room temperature butter. I mix the powdered sugar, butter, vanilla, and a splash of milk. Then I add the cream cheese and shortening. Then I add more milk if needed, and a splash of (spring-colored) food coloring!"
Note from Amy: My mom rarely failed to have after-school snacks waiting for us at the dinner table. My own attempts at this as a mom were more hit-and-miss, but I always felt like a champ when I left the kiddos a little something to greet them in the afternoon, even if I was off working when they got home as older kids. The more homemade-ier, the better, according to reports from the offspring. This recipe hits the spot.
Crab-Citrus Spring Salad
DRESSING INGREDIENTS
3/4 c. orange juice
1/4 c. vegetable oil
3 Tbsp. rice vinegar
1 Tbsp. honey
1/4 tsp. salt
SALAD INGREDIENTS
1 large diced avocado
1 orange, peeled and cut into 1" pieces
1/4 c. minced red onion
1/4 c. chopped red bell pepper
(can substitute any color pepper)
1 Tbsp. chopped fresh cilantro
2 tsp. fresh minced jalapeno or serrano pepper
(more or less or none, depending on how spicy
you like your food)
1 lb. lump fresh or frozen crab meat
Leaf lettuce or spring mix lettuce leaves
Coarsely ground black pepper
Fresh orange segments
PREPARATION
Combine dressing ingredients and set aside.
In a large bowl, place avocado, orange pieces, red onion, red bell pepper, cilantro, and jalapeno or serrano. Allow to stand together for about 30 minutes. Draining and squeezing liquid out of crab meat, remember to check for any shell remnants. Add meat to salad.
Place lettuce leaves on festive, bright-colored plates. Top with crabmeat salad and sprinkle on the dressing to taste. Season with ground pepper and add orange segments for garnish.
Makes 6 Servings