Taquitos/Truffles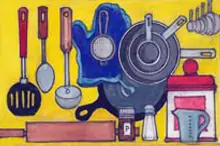 By Amy Story
Buffalo Pollo Taquitos
INGREDIENTS
1 rotisserie chicken, shredded
4 c shredded mozzarella and/or sharp cheddar cheese
1 1/2 c. buffalo sauce, homemade or store-bought
garlic powder
smoked paprika
seasoned salt
REPARATION OF FILLING
> Season chicken and sauce to taste with the garlic powder, smoked paprika, and seasoned salt, and combine.
> Fold in the shredded mozzarella and/or sharp cheddar. Optional: add some chopped cilantro and/or jalapeños.
> Stack several corn tortillas, cover, and cook for at least 30 seconds in the microwave to prevent them from crumbling when you roll them.
> Add filling half of a tortilla, roll it firmly, and secure with a toothpick. Repeat for the rest of the tortillas
> Deep fry on medium heat until golden brown, remove toothpicks, and serve with a side of bleu cheese or ranch dressing.
Tasty Truffles
INGREDIENTS
pumpkin seeds
dates
shredded coconut
maple syrup
white, dark, or milk chocolate
PREPARATION
> In a food processor, combine to taste equal parts pumpkin seeds, dates, and coconuts with maple syrup. Blend until the mixture reaches a packable or moldable texture.
> Pack into round shapes, melt the chocolate, and dip them in it.
> Sprinkle garnish on top, such as crumbled dried raspberries or sea salt, and enjoy.
This is not only super-tasty but is packed with nutrients.