Tea Party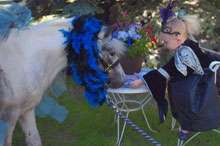 This month's cover of IDAHO magazine showcases the winner of our annual Cover Photo Contest, shown here along with the two runners-up and the Publisher's Choice winner, awarded by publisher Kitty Fleischman. Below, the photographers describe their images. Congratulations to all.
First Place
"Tea Party," by Soncee Webb, Idaho Falls
My mother, Michelle Meyer, owns the miniature pony in this photo, Izzy, and another one named Pixie that are used in a therapy program she runs in partnership with Melissa Child. They go to schools and elsewhere to teach about bullying. One of their phrases is, "Just say whoa to bullying." The program, which is new, branched off a previous therapeutic riding program that used horses to help people with all kinds of disabilities. I've helped in both these programs with the training, handling, caring, and hauling of the ponies, and taking pictures of the events as a volunteer. My mother also lends the ponies to photographers to use as props, often dressed as unicorns, and for costumed birthday parties with themes like super hero, princess, angel, or cowboy. This image shows my daughter, Avanti. We always do a theme for her birthday and this year, when she turned three, she was a princess. The photo was taken in the backyard of our home in Idaho Falls.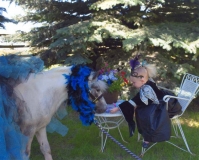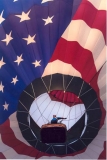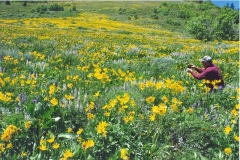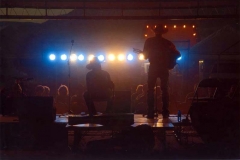 Second Place
"Red, White, and Blue Morning Liftoff," by Tom Alvarez, Boise
I took this photo at Ann Morrison Park in Boise on a Saturday morning in August 2017. It was the day before the Spirit of Boise Balloon Festival ended. I've had a active interest in hot air balloons since Ben Abruzzo, Maxie Anderson, and Larry Newman flew the Double Eagle II across the Atlantic [in 1978]. My wife and I lived in New Mexico briefly and attended the Hot Air Balloon Festival in Albuquerque. When we first moved to Boise in 2013, we were excited to learn of its balloon festival, and last year was the only time we missed attending. I usually make a point of going to one early morning lift-off and then the evening balloon glow event. On the morning this photo was taken, I arrived before sunrise and started roaming around as the sun came up and balloons began to go airborne. I moved quickly across the park from one take-off to another, shooting a lot of images. The red, white, and blue balloon was one of the last to lift off. Certainly, the color scheme got my attention. I circled around on the ground beneath the balloon as it rose, taking a number of sequential images. When I was able to see the man in the gondola, I stayed fixed on him. The balloons themselves always provide great photographic potential, but so much more when you can add a human element to the image. This image is pretty much full-framed with little other adjustments to color and exposure. I also use the photo on my website opening page and business cards.
Third Place
"Liberty in Bloom," by Ross Walker, Montpelier
This photo was taken July 2018 on a hillside overlooking Liberty [in Bear Lake County, west of Montpelier] on private property owned by the King family of Montpelier. My wife and I had attended a wedding at the Kings' cabin on the property just a few days earlier and were given permission to return to photograph the wildflowers, which are mostly arrowleaf balsamroot, but there are also lupines and others. We invited Jim Parker and his wife, Tara, to go with us. Jim and I have gone on lots of photography adventures together and this time I caught him taking a photo of the field.
Publisher's Choice
"Outdoor Stage," by Ross Walker, Montpelier
There's a lot of great entertainment every year on an outdoor stage at the Bear Lake County Fair in Montpelier, where this photo was taken in August 2017. My wife and I were walking in from the parking lot one night when I saw this scene and liked the backlit performers, Dave Anderson and Thatch Elmer, and the audience. I was afraid lens flare from the lights would ruin the shot, but it worked out OK.