November 2018 Calendar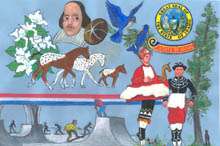 By Les Tanner
In spite of our efforts to ascertain that events listed in our calendar are described accurately, cancellations or changes due to weather, illness of performers, and other such things, although rare, are bound to occur. Double checking with the event coordinators about locations, dates and times is always a good idea.
1 First Thursday, 5 PM, Downtown Boise
1 Four County Art Guild meeting, Noon, Public Library, Weiser
1 Evening Book Club: 6-7:30 PM at the Well Read Moose, 2048 N. Main, Coeur d'Alene
1 Drop-In Computer Clinic: For all ages. Free computer or technology help. 10:30 AM-Noon. Public Library, Caldwell
1 "The Guns Grow Silent: World War I Ends 100 Years Ago": Lecture series for engaged citizens 55+. Linden Bateman, historian and former Idaho state legislator. 3-4 PM, Museum of Idaho, Idaho Falls
1 Clase Gratis de Ciudadania/Free Citizenship Class: 5:30-7 PM, Libreria Publica/Public Library, Nampa
1-2 Youth Art: Bring your imagination and sense of adventure while we create fun projects. Please dress for a mess! Ages 6-10; Member $12, Non-Member $15. 11am-12pm, Rec Center, Nampa
1-4 Wild Adventure Corn Maze, Blackfoot
1-24 Community Bingo: SATURDAYS. For everyone ages 18+, not just seniors. Win cash and help us fund our nutrition program for seniors confined to their homes. 6:00 PM, Senior Citizen's Center, Idaho Falls
1-29 Skate Night: THURSDAYS. 6-7 PM, High School Commons area, Cambridge
2 Idaho State-Civic Symphony Concert: This concert features the winners of the recent Young Artist Competition, and Beethoven's Symphony No. 7. 7:30-10 PM, Stephens Performing Arts Center, ISU Campus, Pocatello
2 Día de los Muertos Celebration: Come and learn all about this exciting part of Hispanic Heritage. Enjoy Pan de Muerto (bread of the dead) and conchas. 4-6 PM, Library at Cherry Lane, Meridian
2-3 Craft & Chocolate Affaire: Buying from this event will support local crafters and artisans! Come to relax, please your chocolate cravings and shop till you drop. Bring your kids to meet Santa Claus. FREE to the public. 11 AM – 2 PM, Civic Center, Nampa
2-3 Veterans Appreciation Bazaar & Raffle: Raffles take place both days with 100% of proceeds going to Boise Veteran's Commission. Free hot chocolate & coffee. A great variety of vendors and food trucks. 3-8pm Friday, 9-4pm Saturday. Elks Lodge, 6608 W. Fairview Ave, Boise
2-3 Corn Maze and Pumpkin Festival: 10 AM-11 PM, The Farmstead, 1020 S. Rackham Way, Meridian
2-3 Friends of the Library Christmas Book Sale: Noon to 3 PM, Public Library, Nampa
2-4 Ski & Snowboard Swap: Admission: Friday – $5; Saturday – $3; Sunday – free with canned food donation (for the Boise Rescue Mission) $3 without a donation. No charge for children 11 and younger. Friday, 3 pm-10 pm; Saturday, 10 am – 8 pm; Sunday, 10 am- 3 pm. South and Center Expo Buildings, Expo Idaho, Garden City
3 "Christmas In the Pines": Arts & Craft Show and Soup Kitchen, Winchester
3 Pokemon Club: For ages 7-18. Learn the trading-card game and test your skill against others. A few decks will be available to borrow. 2-3:30 PM, Public Library, Caldwell
3 Veterans Appreciation at Kleiner Park: FREE ADMISSION & Open to the Public with Food, a Great Variety of Vendors on site, Live Music, Raffles door prizes. 9 AM-3 PM, Senior Center, Kleiner Park, Meridian
3 29th Annual Craft Fair, Harpster
3 Museum Work Day: Volunteers welcome; 8 AM; Lunchtime Seminar (bring your own lunch): Dr. Eric Yensen, "Why Rodents Matter: Ecological Roles of Shrub-Steppe Rodents". Location: the O.J. Smith Museum of Natural History, Boone Hall, The College of Idaho, Caldwell
3 Marvelous Meridian Playdate: For babies and toddlers (birth to three years) and their parents and caregivers. Fun games and activities that delight young children and encourage early literacy. 10 AM-1 PM, Library at Cherry Lane, Meridian
5-26 Storytime: MONDAYS, Stories for ages 0-2. 10:30 and 11 AM. Public Library, Caldwell
6 Cooking Class: Learn new recipes and cooking techniques at Gritman's free monthly cooking classes! Focusing on nutrition and fun, these classes have free samples, and reservations are not required. 3-6 PM, Gritman Medical Office Building, Moscow
6 Project LINUS: A local group that makes blankets and quilts for children in crisis in the Pocatello area. 1-4 PM, First Presbyterian Church, Pocatello
6 Kilroy Coffee Klatch: 10 AM-Noon, Warhawk Air Museum; FREE for ALL veterans and ALL veterans are welcome; Free coffee and breakfast treats. No RSVP required – just show up; Nampa
6-27 Taco Tuesdays: 5-7 PM, Elks Lodge, Weiser
6-28 Storytime: TUESDAYS and WEDNESDAYS, stories for ages 2-5. 10:30 AM, Public Library, Caldwell
6-29 Piano and Guitar Lessons for Kids: TUESDAYS and THURSDAYS at 6 PM. Sponsored by The Salvation Army. Registration is only $20 for an 8-week course. Small group setting. Instruments provided. Contact: Megann Clarkson 208-467-6586, ext 10. 403 12th Ave South, Nampa
7 Boise Birding Series: Free program for experienced and novice birders alike, providing information and tips on birds in the Boise area and beyond! Bird books and binoculars are available to borrow. 9-10 AM. Foothills Learning Center, Boise
7 Open Studio: "Figure Drawing". Brush up on your figure drawing skills in a relaxed environment. All skills welcome. $10 fee. 6:30-8:30 PM, Sun Valley Center for the Arts, Ketchum
7 Sunset Lecture, "Birding Ghana": This small African country doesn't have the large mammals that more well-known countries have, but it does have hundreds of bird species. Ornithologist Terry Rich will cover not only the birds but the fascinating landscapes and people of Ghana. Free. 7-10 PM, Foothills Learning Center, Boise
7-28 After School Fun: WEDNESDAYS. Crafts, games, board games, and fun activities for ages 5-11. 4 PM, Public Library, Caldwell
7-28 Happier Hour Story Time: WEDNESDAYS, Free. 4-5 PM, The Well-Read Moose, Coeur d'Alene
7-28 Storytime: WEDNESDAYS. 3-4-year-olds, :Curious Cubs". 10 AM, Library at Cherry Lane, Meridian
8 Thursday Afternoon Read: Discussions of the book of the month, Ages 18+. 2-3 PM, Public Library, Caldwell
8 Genealogy Workshop: This free class will allow you to research your family tree with Donna Voyles, the director of the Family History Center in Hailey. 3-4 PM, The Community Library, Ketchum
8 Kids Cook with Books: Reading books together is fun and exposes kids to culture and language. Ages 4-8 years. Read stories and create a themed recipe inspired from the text. Each cooking activity develops skills such as pre-math, pre-science, health, nutrition, safety, and following directions. This month's book: A Turkey for Thanksgiving, by Eve Bunting. Fee: $10/per child. 6-7:30 PM, Roberts Recreation Center, Caldwell
9 Veteran's Day Memorial Ceremony: Patriotic music, laying of wreaths, local veterans honored, 21 gun salute and taps. Noon, Madison High School Gymnasium, Rexburg
9 "Duo Tesoro": Pianists Dr. Mark Hansen and Dr. Svetlana Maddox, 7:30 p.m., CSI Fine Arts Auditorium, Twin Falls
9 Bar J Wranglers, Performing Arts Center, Blackfoot
10 Daughters of the Nile Fashion Show, 11 AM, El Korah Shrine, Boise
10 "Muggle Magic": The magical world of Harry Potter combined with the real magic of science. Upon entry to the museum, wizards will be sorted and introduced to wand-making using Idaho native trees, meet toads and snakes, and learn about Muggle science that is truly magical! 11 AM to 3 PM, Idaho Museum of Natural History, Pocatello
10 Kids Discovery Expo: Moms, dads and grandparents, come on out to this event where children Explore, Create and Discover. Learning through hands-on exhibits is what the Kids Discovery Expo is all about. Activities for ages 0-13 include petting zoo, jump house, sports activities, face painting, bubble soccer and more. Admission $3. Kids 12 & Under Free. Cash Only. Sat 9 AM-3 PM, Expo Idaho, Garden City
10 "Fantastic Beasts" Party: Grab your wands and come celebrate the release of the new Fantastic Beasts movie! 6:30-8 PM, Library at Cherry Lane, Meridian
10-11 Treasure Valley Flea Market: Sat 9am-5pm, Sun 10 AM-4 PM. Admission:$2; seniors $1, children 12 and under are free. South Expo Bldg., Expo Idaho, Garden City
11 Veterans Day at Rec Center: All veterans and military members are invited to the Nampa Rec Center. Whether its shooting hoops, working out, swimming in the pool or relaxing in the sauna, join us for a FREE day of recreation. Thank you for your service! 11 AM-6 PM. Nampa
11,18 Wood River Orchestra Fall Concert: Free admission. 4-5:30 PM, Community Campus Performing Arts Theater, Hailey.
11 Veterans Day at Lava Hot Springs: These World Famous Hot Pools offer all Veterans FREE ENTRY All Day. We want to Thank You for your service. Lava Hot Springs
13 Make It! Craft Club: Get crafty and make something cool to take home. Materials provided. Ages 16+. 7-8 PM, Public Library, Caldwell
13 Indianhead Fyfishers Meeting: 7 PM, Idaho Pizza Co., Weiser
13 Reading Tails: Come read to an adorable four-legged friend. 3:30-4:30 PM, Public Library, Nampa
14 Home School Day: Introduction to Raptors emphasizing Wildlife Conservation. Morning session 10:30-Noon, Interpretive Center open house 12-1 PM. Afternoon session 1:30-3 PM, Interpretive Center open house 3-4 PM. Cost $3 per person. Members and children under 4 admitted free. Group size is limited. Pre-registration required at 208-362-8260. The World Center for Birds of Prey, Boise
14, 28 Adulting 101: Workshops for ages 14+. Skills and resources necessary for successful adulthood. 6:30-7:30 PM, Public Library, Caldwell
15 Home School Day: "America Recycles Day". Free for children 3-12. Explore why recycling is important, play the recycle relay, and create a sculpture from recycled materials. 10–11:30 am, Boise WaterShed, 11818 W. Joplin Road, Boise
15 Music Adventures with Paige Moore: 6 PM, Library at Cherry Lane, Meridian
15 Holiday Crafts: Staff-led holiday craft projects for all ages. 6:30-7:30 PM, Public Library, Caldwell
16 Crafter's Club: Work on your favorite project–knit, crochet, embroider, with other crafters. Ages 18+. 2-3:30 PM, Public Library, Caldwell
16 "Art of Building a Community", Karcher Mall, Nampa
16 Magic Valley Symphony Concert: 7:30-9 PM, CSI Fine Arts Auditorium, Twin Falls
16-17 Idaho Snowmobile Show: Friday: 3pm to 8pm, Saturday: 10 AM to 6 PM. $8.00 – General Admission, Children under 12 Free. Expo Idaho, Garden City
17 Free Community Workout: This 1-hour class is open to anyone of any fitness level. We just want to help Nampa be as healthy as possible. 9 AM, Corner of Front Street and 11th Ave, Nampa
17 Dessert Swap: Bring a sample of your favorite dessert and ten copies of your recipe to swap with other dessert lovers. All ages are welcome to participate and sample the goodies. 2-3:30 PM, Public Library, Caldwell
17 WISCL Scholastic K-12 Chess Tournament: 8:30 AM-1 PM, Lowell Scott Middle School, Boise
17-19 Young Nations Youth Pow Wow, Lapwai
17-25 K&K Thanksgiving Fishing Derby: Lake Pend Oreille Idaho Club's annual fall fishing contest, Sandpoint
19-21 Thanksgiving Break Drop-in Program: Crafts and activities with a Thanksgiving theme,10 AM-Noon, water renewal facility tour at 11 AM (weather permitting) Tour limited to 40 people, closed-toe shoes required, no strollers. FREE admission! Boise WaterShed, 11818 W. Joplin Road, Boise
22 Turkey Trot: Community 5K Fun Run and Walk. A family- and kid-friendly event. Enjoy trotting on Thanksgiving Day in downtown Hailey, along the Big Wood River and through the Wood River Land Trust's beautiful Draper Wood River Preserve. The Turkey Trot starts at 10 AM at Sturtevant's in Hailey
22 Laps Before Naps: Come and get your LAPS in before your after-turkey NAPS. Bring 4 items of canned or non-perishable food and receive free entry. Food will be donated to the Idaho Food Bank. Whether it is laps in the pool or laps around the track, come be active with us and kick off the Holiday season! 5am-Noon, Rec Center, Nampa
22 Turkey Trot: This fun run/walk benefits the Boise Rescue Mission, Make-A-Wish Boise, The Boise Special Olympics and so much more. Live Music, fun post-run celebration that gets you ready for the Thanksgiving feast ahead. $25 – $35 for adults, $14 for kids 10 and up, under 10 run for free, 9 AM-Noon, City Hall, Boise
23 Tree Lighting and Santa's Arrival: Tree lighting ceremony at Jeff Jones Town Square and visit from Santa opens the holiday season, Sandpoint
23 Mini-Cassia Turkey Trot: This is a wonderful event celebrating children and families and promoting good health and fellowship. 8-10 AM, West Minico Junior High, Paul
23 Tree Lighting: Bring the family down to see the lighting of the tree, The Grove, Boise
23-24 Christmas Festival: Welcome the Christmas Season with the community traditions of Old Town Pocatello. Santa visits at Station Square from 3-6 PM. Night Lights Parade at 6:30 PM. Saturday: free photos with Santa, free trolley rides, and art projects for children. Pocatello
23-24 Clearwater Christmas Affair, Kamiah
24 Family Movie: Watch a family-friendly movie on the big screen—and enjoy free popcorn, too. Ages 4+. 2-4 PM, Public Library, Caldwell
24 Idaho Festival of lights: Bed Races on State Street, Variety Show, Kids Movie, Live Entertainment, Santa, Fireworks & Lighted Parade, Preston
27 "A Dairy Home Companion": This show follows the format of the perennial favorite "A Prairie Home Companion" with some changes to fit southern Idaho. CSI Fine Arts Auditorium, Twin Falls
27 Crochet 101: Ages 10+. Learn crochet basics, with a fun, easy project. 6:30-7:30 PM, Public Library, Caldwell
27 Community 38th Annual Holiday Bazaar, Pierce
27-28 "It's a Wonderful Life", A Live Radio Play: Based on the classic holiday movie with a clever twist thrown in: the story is staged as a live radio broadcast. Best Western Plus/Coeur d'Alene Inn, Coeur d'Alene
29 Encore Theatre Carolers: The Dickensian-themed group will be performing a variety of holiday carols. Snacks will be served. Fun for all ages. 6:30-7:15 PM, Public Library, Caldwell
30 Chamber Christmas Light Parade, Kamiah
30 Adult eARThworks: Idaho Mosaics: Learn about the gemstones of Idaho – why they are different colors, how they form and other interesting facts about the Gem State's unique geology. Pre-Register at parks.cityofboise.org/register-for-classes/; Activity # 125006-02. 6-9 PM, Boise WaterShed, 11818 W. Joplin Road, Boise
30-12/1 Yuletide Lighting Festival: Lighting of the streets and historic buildings, gingerbread contest, Wallace
30-12/2 Boise Christmas Show, Expo Idaho, Garden City