Menan—Spotlight
A Pocket of Peace
By Linda Radford
Photos by Mike Miller
The semi-rural community of Menan (population about eight hundred), lies in a peaceful area surrounded on three sides by vibrant, growing communities. Twenty miles south is the largest metropolitan area on Idaho's Snake River, made up of the adjoining towns of Idaho Falls and Ammon (combined population 76,550). Rexburg, with its Brigham Young University–Idaho enrollment of more than eighteen thousand and town population of twenty-nine thousand, is about eleven miles to the northeast. The closest town of significant size is Rigby, the Jefferson County seat, about seven miles to the southeast. As these towns and their suburbs and industries have grown, Menan has slowly transitioned from a farming-centered village to a bedroom community for all three places. But not completely.
I grew up in the 1950s and '60s in Annis, the neighboring community to the east, considered a part of the Menan area. I experienced firsthand the farming community days before moving away after graduating from high school. I came back to visit often and then moved back permanently in 1991 to live with my aging mother. During those years, I got glimpses of the changes that have gradually taken place in this part of Idaho's Snake River Valley.
Agriculture as a way to make a living still wields a strong influence on Menan and the surrounding area. For the most part, those who have grown up and stayed here or who have moved here have made it a high priority to avoid the population density that surrounds Menan, to keep it a peaceful, pleasant, and safe place to live. For example, zoning laws and individual decisions not to let go of property for large housing developments are presently helping area residents meet this goal.
Menan is a thriving, progressive community. Vitality has been infused into it by newcomers and by people who have returned to their roots. Here and there, new houses are built, and older homes that become vacant are usually sold quickly. In the last year, a new farm supply store with a fast food section and gas pumps was built, a welcome addition. A new fire station was added recently and a building that dates back to the 1920s was turned into an upscale restaurant, drawing diners from near and far. Plans are in the works to build a new public library to serve Menan and two nearby communities. There is a K-5 elementary school serving children in Menan and in three other neighboring areas, and a large city park offers a place for all ages to relax and play. Through community effort some years ago, a walking path was made along the length of the town's mile-long Main Street, running parallel to a wide irrigation canal that also extends the length of the street. The path is popular in all seasons for all ages of walkers, joggers, dog walkers, and bike riders. Even people who don't live in Menan drive to one end of the path, park their cars and enjoy the walk. All of these amenities make life better for those of us living close to Menan.
The town's beginnings can be traced to May 10, 1869, when the golden spike was driven at Promontory Point in northern Utah, creating the transcontinental railroad. Immediately, branches of the railroad began to be built. The Utah and Northern Railroad was started at Brigham City, Utah, in August, 1871, but work was slow because of difficulties with financing. In 1879, on its way into Montana, the railroad reached what is now Roberts, west of what was to become Menan.
One of the workers, John R. Poole of Ogden, Utah, took time to cross the Snake River and go a short distance farther east, where he saw tall grass and thick foliage: signs of rich soil. The Snake River and a number of natural sloughs gave the area plenty of water and he saw that plentiful wild game and wild berries would provide food, and that numerous stands of cottonwood trees could furnish wood for buildings. It appeared to have great potential for settlers. Poole went back to Ogden and met with people who might be interested in moving to new land. Since 1847, Utah Territory had been the destination for immigrating members of the L.D.S. Church, but the territory was filling up, and some people wanted to go where there was more space, an ambition encouraged by leaders of the church.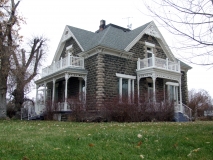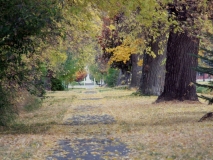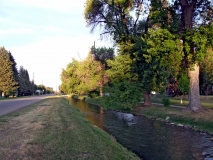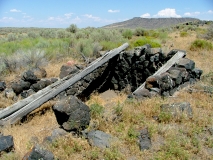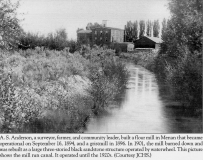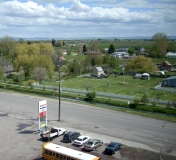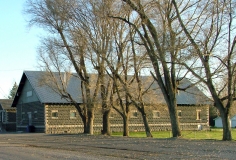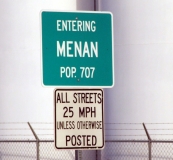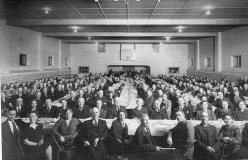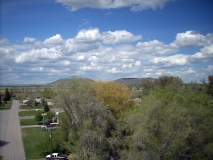 In 1879, Poole brought his family from Ogden to this new area. They were surprised to find another family, the Fishers, who had also come from Utah and were living several miles east, in what is now the farming community of Annis, originally called Cedar Buttes. A bit of rivalry still exists among the descendants of the Pooles and the Fishers as to who really were the first settlers of the area.
Many other families soon arrived from northern Utah during the 1880s, when land became available for homesteading. My paternal great-great-grandparents, Benjamin Franklin (Frank) Hall and Mary Serepta Lake, came from Ogden to Annis in 1886, having decided they needed a larger place to support the family of eight children. Frank sold his nine acres in Ogden for one thousand dollars to purchase homestead rights for 177 acres in what would become Annis. They had one wagon, a team of horses, and several cows. Frank's oldest son Hugh, my great-grandfather, was fifteen. In an interview recorded by his grandson, Foster Hall, Hugh said, "It took fourteen days to make the trip of two hundred miles to Annis. My brother Cumer and I walked and drove the cows. We cooked our meals on a campfire."
Another of my great-great grandfathers, Peter Barbour Clark, whose daughter Margaret married Hugh Hall, brought his family to the area in 1881. His grandson Earl Hall, my maternal grandfather, wrote in his autobiography that Peter ran freight by wagon or coach along the old stage route from Ogden to Dillon, Montana from 1865 to 1880. My grandfather thought Peter would have become familiar with the Upper Snake River Valley on these freight trips. Peter and his wife Artemissia Clawson Clark homesteaded 160 acres, some which is still owned by his descendants. My house occupies one-third acre of the former Clark property.
The area's settlers encountered sagebrush standing gray and tall as far as the eye could see, and dense thickets of willow and cottonwood trees lining the riverbanks. Bluegrass grew abundantly, caused by the overflow of the Snake River in the spring. These settlers brought with them a pioneering spirit, which not only helped them to see the potential of this new place but to summon the strength of will to tame it.
Their first task was to build houses and clear the land, using only man- and horsepower. They knew it would be worth the work, because the height of the sagebrush was a sign of the soil's fertility. They cut off the bushes at their bases with an axe, and then grubbed out the roots. The plants were piled and burned, the settlers plowing furrows around their property so the fire would not spread.
They had to harness the Snake River's water to create irrigation canals before they could begin to grow crops on a large scale, and in 1879 some of Menan's settlers built the Long Island Canal, the first irrigation canal in the Upper Snake River Valley. Using hand tools and horse-drawn machinery, they cleared land, cut the channel, hauled gravel and lumber, and constructed head gates. The still-existing canal comes out of the Snake River east of Rigby, winding eleven miles through farmland, and then flowing into a tributary of the Snake River just west of Menan, bringing water to eleven thousand acres along the way. Some water rights on the canal are among the Snake River's oldest, dating from 1880.
The first name of this new settlement was not Menan, but Poole's Island, in honor of John R. Poole. It was called an island because the land was surrounded by the Snake River and its branches. No matter what direction any of the settlers wanted to go, they had to cross water eventually, which created challenges. Ferries were built and shallow spots in the river were discovered, but it still could be dangerous to cross the river anywhere. Until bridges were built years later, travel on and off "the island" was limited.
The abundance of water was a blessing in some ways but also a curse, in that plentiful water meant lots of mosquitoes. Every summer, the settlers and their animals were tortured by these insects. At dark, smudges made of wood chips topped with green chips to create smoke were lit outside and burned all night. Occasionally, people took their chances crossing the river with their animals and families to go to a non-infested place for a time. They battled this problem through the years, although nowadays a mosquito abatement program is in place.
Early residents didn't realize the mosquitoes spread contagious diseases. Indeed, the causes of many illnesses were not known and people relied on home remedies, because there were no doctors. People often died from infections that arose from injuries. In Menan's first year, a cemetery was established to the east, in what is now Annis. A large area not suited for farmland, it's called Little Butte Cemetery and still serves Menan, Annis, Lorenzo, and Labelle, the four settlements that sprang from Poole's Island. It's widely recognized as among the most beautiful and well-kept cemeteries in southeastern Idaho. My ancestors that I've mentioned are all buried there.
One challenge the settlers of the Menan area did not initially encounter was Indians hostile to their arrival, although Poole's Island had been a summer hunting ground for the Shoshone, Bannock, and sometimes Blackfoot tribes. In 1868, Fort Hall Reservation was set aside for the Shoshone and Bannock tribes about sixty miles south, near present day Pocatello.
At Poole's Island, the settlers worked hard and wasted no time establishing homes, farms, and community. Garth Hall, a grandson of my ancestor, Frank Hall, wrote in his life story: "Most had little chance for much education, yet all were skilled in building homes, canals, roads, fences, land leveling, horsemanship, raising animals, cooking, sewing, and so on. Just look at surveying equipment. How did they know where to put the canals and ditches and property lines? But they did it."
One of the community's first public buildings was a school set up by Susie Poole, daughter of John R. Poole. A log cabin with a teacher's desk and wooden benches around the wall, it had twenty-two students. In 1882, the building burned down and school was discontinued for a year, but then a new and larger building went up that was used for both school and church meetings, as well as other activities.
It didn't take long for the population to increase. In 1883, a surveyor named Andrew Smith Anderson arrived with several church leaders seeking settlement spots in the Upper Snake River Valley for their congregation. The first town site surveyed was for what would become Menan, a name that local tradition ascribes to a tribal word indicating a fertile place surrounded by waters. But the surveying group later chose the spot where Rexburg now stands as the central town in the area.
The town site was a little more than a mile square and lots were large, some as much as two-and-a-half acres, enabling families to be self-sufficient with space for a house, a big garden, fruit trees, chickens, a cow, perhaps some pigs, plus the necessary outbuildings. Menan is still laid out that way today, giving homeowners plenty of room.
There were plentiful trees nearby for housebuilding but an even better source of materials was provided by Menan Buttes (see "Tuff Cones," IDAHO magazine, February 2015). Two miles north of town, these two dormant volcanoes were a rich source of black lava rock. Two brothers operated a quarry on the south butte for many years. Rock was available for sale, but had to be hauled away by horse and wagon. If the buyer was going south toward Menan, the Snake River had to be crossed, at first without a bridge. The work was done, however, because many homes, public buildings, farm buildings, and foundations for wooden buildings were made from this rock. Many of these structures have since been torn down, but some still dot the area as far away as Rigby and Rexburg. The black rock is no longer available from the quarry and the last known public building made from it was an addition to a church in Annis in the 1940s, but it remains an architectural feature of the region.
As Menan grew, one of the most-needed food items was flour. For the first two years after Poole settled here, he had to harvest grain in northern Utah, grind it into flour there, and bring it to Poole's Island. Once settlers had cleared land enough to grow their own grain, they took it to be ground in Oxford northeast of Malad City, a trip that took seven to ten days. In 1894, a Mr. Anderson built a flour mill in Menan. It burned down in 1901 but was rebuilt the next year, this time with black rock from the buttes, and operated with water from the canal that still runs along Main Street, which was built with that use in mind. During the winter, steam was used to run the mill, its boiler fueled by hundreds of cords of wood that had been collected during the summer.
For decades, people from throughout the region brought their grain to be ground at Menan's flour mill, which sometimes operated around the clock. In the 1920s, the mill began to slow down, and eventually it went out of business as flour became more readily available. Cars came into use, roads were built, the railroad came to Menan, and goods were hauled in. After the mill became vacant, it was used as a place for honeybee hives, as a seed pea sorting plant, and then as a starch plant. It burned down in the 1940s, and not much of it remains.
Lack of mobility in Menan's early days fostered the need for all kinds of local businesses. Through the years there were several general stores, sometimes three at a time. The longest-surviving one was the J. L. Hayes store, built in 1885 by a Mr. C. A. Smith. He sold it to the Hayes family in 1922 and they ran it until the late 1960s. Other businesses that have come and gone included a brick factory, bank, milling company, farm loans company, pool hall and barber shop, millinery store, surveyor, coal yard, starch plant, doctor, small hotel, railroad depot with shipping and passenger service, cold storage lockers with meat butchering services, lunch counter, creamery, confectionary shop, and mechanic shop. During Prohibition (1920-'33) when the sale of alcoholic beverages was illegal, Menan alcohol was even sold in the back room of the pool hall and barber shop. This was confirmed by a Menan resident two years before her death at age 102, who said, "That was where my husband bought his booze."
Farming outside the town was busy and productive from the beginning. Wheat and hay were important crops, the rich volcanic soil and the climate were perfect for growing potatoes, cattle were pastured, and the sugar beet industry was introduced to the Snake River Valley in the early 1900s. Refineries were built, enabling sugar production from local beets, which in turn made them a major crop for decades, into the 1970s. The railroad's arrival in early 1900s contributed greatly to the financial prosperity of Menan's farmers.
In 1913, the Idaho State Legislature passed a bill to create Jefferson, Madison, and Teton Counties out of Fremont County. Three towns were proposed for the seat of Jefferson County: Menan, Roberts, and Rigby. Menan was a vibrant community at the time and was large enough to be considered but Rigby won out and grew even more because of its new status. Even so, Menan continued to thrive and create its own identity.
One institution that helped Menan form that identity was its high school, built south of town in the early 1920s. It was called Midway High School, because it was in between the four communities it served: Menan, Lewisville, Annis and Grant. Competitive with other high schools in the area, it gained a reputation for producing fine graduates, but sadly and mysteriously burned down one cold January night in 1949, never to be replaced. Ever since then, the students have gone to high school in Rigby.
My cousin, Ken Radford, who grew up in Menan during the 1950s, had this to say about his youth: "How do you describe small-town America to those who never lived in a world with large cars with tail fins and a single TV station that only broadcast programs after 6:00 p.m.? The time of our growing up doesn't matter but the events that happened to us were critical to us. I look back on haircuts and rose oil at the local barber shop/bar and grill, coal bins and coal furnaces, playing Monopoly and checkers, 1940s coupes and old six cylinder Chevys, TV shows with friends because we had the only TV around, the newspaper that brought us comic strips and the schedule for entertaining programs and music on KID and KIFI radio, The Lone Ranger or Elvis or many others of the time. Best of all these memories are our idyllic lives and the many old-timers who made life in Menan the ideal I remember."
Change has come to Menan and its surrounding area, which is inevitable. But today's residents keep working hard to maintain the values that have made the area a safe and enjoyable place to live. As travel has improved, there's better access to the amenities of larger towns nearby, and I think most residents are satisfied to have it "out there" rather than here. Idaho Falls, with its shopping venues, medical care, new community college, and many activities, is just twenty miles to the south. Pocatello is just an hour's drive to the south. World-famous Yellowstone and Grand Teton National Parks and Jackson, Wyoming, are only a couple of hours' easy drive away. Idaho's capital, Boise, is roughly four hours west by car on a major freeway and Salt Lake City is four hours south on another major freeway. We're central to some of the best fishing areas in America, plus hunting and camping places that are second to none. We can easily travel to all these places to enjoy what is there and then come back home to our little pocket of peace.
When the 2017 total eclipse of the sun occurred, Menan found itself in a narrow belt where that phenomenon could best be viewed. The area was "discovered" because of that event, and there was some trepidation on the part of many of us about all the people who would (and did) descend upon the area. My choice was to stay at my own house, avoid the inevitable traffic and enjoy the eclipse from my own driveway. Eclipse day turned out to be party time for locals and visitors alike, a chance to meet people from all over America and the world, and have them share what is here for a couple of days. Many visitors commented on the peacefulness of our area, recognizing that it was what made their visit so enjoyable. As soon as the eclipse ended at midday, the exodus began, and we watched the traffic jams. Then life returned to normal and we once again had our little pocket of peace.