The Butterfly, In Fact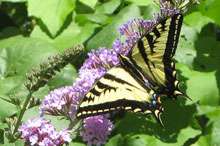 Stuff You Probably Didn't Know
Story and Photos by Les Tanner
I've been a fan of butterflies ever since I was a kid. My dad was a fan, too. But it was a self-taught biologist and author, Vinson Brown, who really got me hooked when I was in high school in California.
Our family got hooked, too, when I was attending school in Georgia. It's a great place for butterflies. We must have been a sight, two adults and two kids running around flailing nets at objects that distant observers couldn't see. We eventually built up a considerable collection, much of which resides in our family room here in Caldwell. We gave up that phase of the activity long ago, however. Butterflies are too harmless and beautiful to kill. Taking photos is the way to go now, although occasionally I'll spread-and-pin a specimen that was hit by a car.
What brought butterflies to my mind most recently was the loss of all but two of the butterfly bushes (Buddleia davidii) we've had in our yard for many years, no doubt because of the bummer of a winter we just experienced. We had too many for my wife's taste—they have a tendency to take over garden spots and even are considered an invasive species by some authorities—but they attract butterflies and hummingbirds and bees and other critters that are cool to watch. The bushes I hated to lose most were the large ones that grew house-high in front. Wonderful plants.