The Feud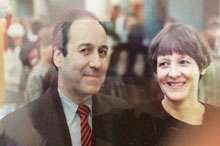 Valley County's Montagues and Capulets
By F.A. Loomis
The homesteaded ranches of my family and Juliet's family lay north of Arling and south of the Gold Fork River, divided by the demilitarized zone of Highway 55.
Our families were perpetuating a feud that extended back to our paternal grandfathers in the 1940s. Very little was said of the feud in my family, but it was understood that "something had happened" long ago to cause deep alienation, resulting in both families never mingling in public or private, and with others in the community expected occasionally to take sides. My older brother once brought Juliet's older cousin home to meet my grandparents, and after he had returned her across the ranch border, he was severely chastised for bringing a Finnish girl—a "ferner"—onto our turf.
I had first learned of Juliet when she showed up at my grade school one year in the 1950s, visiting a cousin. A cute, brown-eyed girl with pigtails in a black and red-checked jumper and white blouse, she immediately stood out among the girls in my fifth-grade class. "She's Matt and Flora's niece, Howard and Ethel's daughter. She lives in Utah and is visiting," a knowing classmate told me.
Attracted immediately, I tried to converse with the visiting girl but had no luck. A year later, I heard she was visiting another cousin in Donnelly. I was intrigued and thought perhaps I could meet her. Perhaps she remembered me from her school visit. I concocted an excuse to visit the house where she was staying, took my trusty binder with holiday cards to the front door and asked if her cousin, old enough to be her aunt, would like to order some. When I saw Juliet walking through the living room I tried to say hello, but her cousin asked her to proceed to the kitchen where she was making cupcakes. Shortly after this, I was encouraged to go home; her cousin had no interest in buying greeting cards.