The Rapture or a Rupture?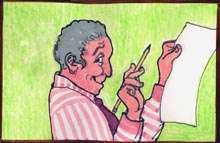 A Calendrical Query
By Steve Carr
Imagine my emotions when I look at my December calendar and realize this will be my last column ever. It's been a sustained middling effort. I've learned a lot, offended some and confused many.
I've whined unceasingly to my long-suffering wife about the difficulties of finding a topic and attempting creativity—or, is it tempting creativity? But, it has been a ride, a deadline-enforced retrospective of life from the middle: middle age, middle child, middle America, an acceptance that perhaps the middle seat is not such a bad place to find oneself. Especially when one considers the alternative of being no place at all.
As I write this in December, I realize the deadline for my next column will be the first part of January—but according to the peculiar calendar on my wall, the last day is December 21. Poof! For once I'm happy I'm not organized and prepared with advance work in the hopper. I'm not keen on writing something no one will be around to read. I may be a procrastinator, but I'm not stupid.