The Rhythms of Ranch Life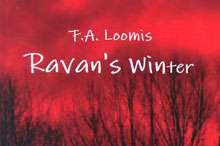 Novels of Floyd Loomis
By Eileen Garvin
My childhood summers in Idaho were endless days of outdoor exploration— the wind in my face riffling off Lake Coeur d'Alene, well-worn trail under bare feet, and sun-filled woods, where I roamed freely with my siblings and friends.
Our daily timetable was dictated by the natural world—up with the sun and home by dark to meet around the dinner table. These memories returned to me as I read Frankie Ravan, by Idaho author Floyd Loomis.
The year is 1958. In a small mountain town called Crawford's Nook, eight-year-old Frankie Ravan is coming of age within the safe confines of post-World War II America. Loomis chronicles the typical boyhood adventures of rural life in the mid-century—sampling cigarettes and beer, pondering the first hints of sexuality, and mourning the accidental death of another local boy. Daily life at the Ravan ranch, where Frankie lives with his parents and two older siblings, is full of the regular and comforting rhythms of harvesting, hunting, baking, and preserving. With his best friends Charlie and Tom, Frankie suffers the cruelties of older, rougher boys and the inevitable tragedies that befall any community, but are felt more deeply in a small town—arson, child abuse, and the deaths of loved ones. But mostly this a story about the innocent splendor of early childhood—horses, motorbikes, swimming holes, and the freedom to roam at will in a little town that holds them all close.