The World's Best Summer Job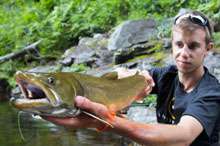 Where It Still Is Like It Was
Story and Photos by Trevor Dudunake
When I hear my college roommates talk about Idaho, they usually don't give it the respect it deserves. They think it's all desolate flatlands consisting mostly of potato fields mixed with sagebrush and perhaps an occasional small town. I laugh to myself. It's best they think that way. But I have a vision of my home state that is something quite different.
I was born and raised in the Boise area, a city boy and an only child, but I have a large extended family filled with outdoorsy people, and my parents quickly made me aware of the small towns, farmland, mountains, and desert within our state. Now that I'm a twenty-one-year-old sophomore at Utah State University, whenever I'm not in class, I'm usually skiing or hiking in the nearby mountains.
Last summer, I came home intent on working, but instead of flipping hamburgers, sitting in a cubicle, or answering inbound telephone calls like most other students, I ended up with the world's best summer job. There were pristine lakes, dazzling rivers, and mountains filled with pine trees as far as my eyes could see. I was in a place where the sunshine strained to touch ground that was dominated by bushes with leaves big enough to almost cover my laptop. There were huckleberries, millions of pine needles, and some of the sweetest smells ever.
What I didn't see was other people.
Nor did I have much need for technology. My leaf-covered laptop was useless. Equipped with only a notebook, fishing pole, and camera, I ventured into the wilderness, sometimes getting within twenty feet of deer, elk, and even moose. I have no evidence of those occasions because each time it happened, we would stand still and stare at each other, waiting to see who would make the first move. If I reached for my camera, the animals disappeared. The only evidence remaining was their footprints and a few bushes wavering.