Tri Spudman—Read for Free
Three Decades of Triathlons
By Alice Schenk
This story is offered free in its entirety for the first part of December.
This would be my thirtieth Spudman, and as in all the others before it, I intended to bring home a trophy.
If you finish in the top three in your division at Spudman, you get a ceramic trophy spud, homemade by Burley resident Sandy Baker. She spends about eight months pouring molds, coloring, firing in the kiln, glazing, firing again, and then painting every iconic Spudman by hand, eyelashes and all—that's about two hundred spuds every year, for thirty-three years.
The Spudman is an Olympic-distance triathlon (1.5k swim, 40k bike, 10k run) and a hometown race, even though more than seventy percent of its competitors come from Utah. It's such a family-friendly event that last year a new "wave" or heat called "Family and Friends" was instituted. No podium awards are given for Family and Friends, just finisher medals and shirts. Each wave has about three hundred swimmers, grouped by age. Waves start every ten minutes, to make sure the biking course doesn't get overcrowded, so drafting is less likely to occur, and also to accommodate athletes in the smaller transition areas.
Back in 1990, Spudman was recognized by Triathlete Magazine as one of the "Top Ten Must-Do Small Town Triathlons" in the USA. The event's original T-shirts were captivating: three potatoes ready to swim, bike, and run across the front of the shirt. Fittingly, the biking portion of the race is near Declo, former home of J.R. Simplot. I worked in his potato processing plant for a couple of summers after high school.
The Spudman's swim downstream is in a pleasantly warm, current-aided river. Not everyone wears wetsuits. I certainly do, as they're slightly buoyant, which is noticeable as soon as you're in the water. I think the suit makes me look like a mama whale but since I'm bigger than some of the other fish out there, and it does help me "float" a bit, I wear it. I didn't learn to swim well until I was forty-seven but because of the current, you can pretty much lie on your back and drift in about a half-hour to the first transition or T-1, where the bicycles await.
At T-1, you drop your wetsuit, goggles, and cap in a plastic garbage bag provided by the organizers with your number on it. Race officials then haul your wet gear to the finish area, which is about a mile from T-1. Most triathletes rack their bikes at T-1 the previous evening, and then pump more air into the tires in the morning. July temperatures have been known to hit ninety to one hundred degrees and full tires have popped like corn as bikes sat in the heat. I think a few million dollars' worth of bikes could easily be sitting in T-1.
My triathlon bike wasn't cheap but it's a beauty. Sleek, red, and it can fly. One day it took off all alone. At 55 m.p.h. I was not on it, thankfully. I had finished riding the course with other triathletes in preparation for an upcoming Spudman, after which I loaded the bike on my vehicle and drove off. At 55 m.p.h., I felt something shift in the back. I glanced out the review mirror just in time to see my bike, which had flown off my car, land on its skinny tires inflated to 110 pounds, leap into the air, do a somersault, and land on its seat and handlebars before falling over and skidding to a stop. Ouch! I had forgotten to batten the hatches by locking my seat tube onto the carrying frame.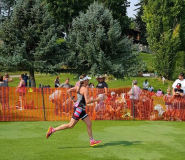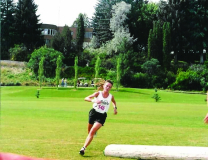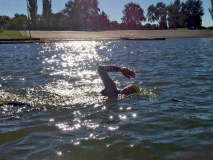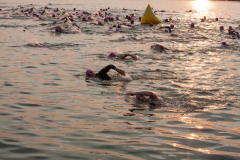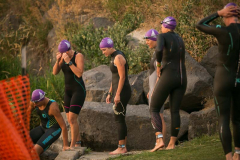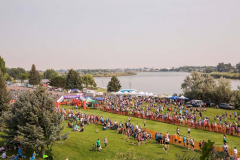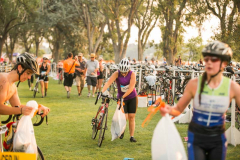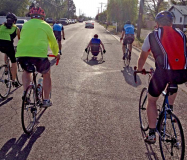 In a Spudman race, the bikes are dropped off at T2 and, pair by pair, the colorful running shoes covering the ground are laced on. The course starts up a steep but short hill for about five hundreds yards out of the golf course, and then moves across pavement, and alongside farm fields and irrigation canals. En route, a fire truck waits to spray you. I love the way residents drag their hoses to the street and turn on their sprinklers so we can run through them to cool down.
Hotels always fill quickly for the event. For the past decade or so, I've opened my home to five guests annually, mostly from Utah. A lot of people simply camp near the race's starting line and on the golf course, forming a small city of cars, motor homes, and tents.
In its inaugural year of 1987, the Spudman attracted eighty-nine participants, but that number grew steadily until for safety reasons it was capped at 2,200. By 2008, when the online registration for Spudman opened at noon on January 7, those who clicked fast enough were entered, and at 12:03 p.m. the race was full. Scott Bloxham, who was then the race director, told me his phone started ringing off the hook. "Try again, it can't be full," he told people. But when he called to check the entry status, he was shocked to find it was indeed full and then could only say to the continuous stream of callers, "Try again next year."
The idea for Spudman began with Ron Ploger, Burley's recreation director and a member of the Lions Club. Ron wanted to see if he could organize an event with three races going on at one time. "I also wanted to do a triathlon myself," he told me. He had no experience in triathlon organization, so he watched an Ironman event on TV and saw another one in Sun Valley. He then approached Scott, a fellow Lion. It was decided the event would be a fundraiser for the club, which would provide manpower. Back then, Ron had no way of knowing how popular the triathlon would become. Nor could he know that in 2006 he would compete in the much longer Kona Ironman World Championship in Hawaii, after open-heart surgery! An Ironman race is four times the distance of an Olympic triathlon. You swim 2.4 miles, bike 112, and then run a marathon (26.2 miles).
The first year of Spudman, some people competed in all three legs themselves. Others shared the load with teammates. That would be me, because I love running. For fourteen years, I stacked my team with talented swimmers and bikers, and we placed in our age group every year. Then I succumbed to peer pressure, started competing solo, and my Spuddy Buddy Trophy Collection took a nosedive.
Still, my first solo changed my life. Who knew it would be a springboard to greater distances? My swimmer and biker were out of town that year. I had four weeks to train. Tucking me under their wings, my friends loaned me a wetsuit and babysat me down the river. I had time for only four training rides on the bike. I'll never forget heading onto the running course just as all my friends were finishing that leg. Ah, well. My motto for the event was, "Do It Afraid." Over the following years, I showed steady improvement, and after four solo Spudmans, I found myself toeing the line at the Redman Ironman in Oklahoma City with my mentor and friend Randy Stone. The race organizers gave us seventeen hours to finish if we wanted a medal. I wanted the medal, and I got it, finishing third in my age group.
But not until my twenty-seventh Spudman did I bring home my first solo Spudman trophy, for a second-place finish in my age group. After almost everyone had left the event, one of the guys from the Lions Club told me I could quit smiling now. A silly grin had been spread across my face for hours.
I now have twenty of the coveted ceramic Spudman trophies on my bookcase. Bragging rights—although maybe not quite on the order of my Ironman mentor Randy and his best friend, Alan Hunter, who have participated in all thirty-three Spudmans. They have quite a few ceramic trophies, too.
Spudman is well organized but there are enough logistics to produce a nightmare. Besides getting the course ready and coordinating an army of volunteers, for years there was a delicious dinner at the boat docks the evening before the event, with mounds of spaghetti, green beans, a roll, and of course a baked Idaho russet. This year the meal was dropped but vendors came onsite and triathletes hit the local restaurants. There's also pre-race planning to do, ordering T-shirts and medals, website management, traffic control, insurance, registrations to process, race packets to stuff, traffic cones and fencing, bike racks, and transition areas to set up. Spudman goes through more than 2,500 cups at each aid station. Scott, who like Ron is a triathlete himself, participated in the Spudman until the time commitment required to fulfill his director responsibilities made it impossible.
When I coached distance runners at Minico High School, I would sign up my runners and the cheerleaders to come volunteer at the event. This also gave me a personal cheering section as I cheerleaders to come volunteer at the event. This also gave me a personal cheering section as I ran. Another bonus was that the high school's running program received a donation from the Lions for helping. Area sports teams still volunteer today, and local law enforcement ensures everyone's safety.
Runners I coached often end up participating in Spudman. When one of my runners, B.J. Christiansen, helped at Spudman as a ninth-grader, he wasn't so tall. After high school, he ran for the College of Southern Idaho and the University of Utah, winning the nationals in the steeplechase. When I bumped into him a few years later, he was six-feet-seven. B.J. has won Spudman seven times, finished second six times and third four times. This year will be his tenth competing in the Kona Ironman World Championships in Hawaii, and his friends now call him the Iron Giant. His brother Ed is just as tall. Almost every year at Spudman, when I stand between them for a photograph, my shoulders reach their waists.
In 2016, B.J. crashed on his bike ten days before the race in Kona, fracturing his scapula. True to a slogan often called the spirit of Ironman, which asserts, "Anything Is Possible," B.J. decided he would race anyway. I was pleased to see him interviewed before the event sporting a Spudman Tri cap. His expectations were low, but he said he definitely planned to eat his way through the aid stations. Before the swim, he strapped his injured arm to his side with plastic wrap to protect it. He swam with one arm, went on to bike in the aero position [tucked down over the handlebars to improve the aerodynamics] with most of the weight on the good arm, and then he ran.
I think the toughness of Ironman and triathlon competitors often extends to race organizers. Plenty of things will make a race director frustrated, but not many will make him cry. Yet one Saturday morning in 2008, as I stood on the golf course with Wave #7 waiting for clearance to start the swim, Scott faced a decision that had him momentarily in tears, and rightly so. A triathlete in a previous wave of the swim had struggled and gone under. The dive team was called to locate the body. Thankfully, a couple of other swimmers saw him disappear and the search began in that area.
My wave didn't realize what was happening and we got in the water. Soon, all three hundred of us were pulled from the river and asked to wait as the search continued for thirty to forty minutes. When the body was recovered, a decision had to be made to either allow the triathletes to swim or just have them do a duathlon (bike/run). That decision fell to Scott. Many of us felt we should not go back into the water out of respect for the drowned swimmer's family, so we walked to the bike transition area for our duathlon. Although some competitors were not pleased by this decision, that was minor compared to the family's heartbreak. Three years later, after a quarter-century as race director, Scott sent his final wave of swimmers bobbing downstream in the Snake and then passed the baton to Cade Richman. At a Lions luncheon the next week, both Scott and Ron were presented bronze Spudman trophies.
In 2011, I was asked to coach a local sportswriter, Ryan Howe, who had decided he wanted to go "from couch to Spudman," and write a weekly column documenting his training.
"Do you swim?" I asked him.
"I took swimming lessons when I was seventeen," he said.
"Do you own a bike?"
"I haven't ridden a bike since the neon green Huffy I got for my tenth birthday."
"Run?"
"Eleven years ago, in high school. About a hundred yards."
I've always loved a good challenge, so I said yes. I hooked up Ryan with my friend Ken Stephens, an avid biker and triathlete. Another friend loaned him a triathlon bike. He started training and then signed up for a 5k race. At the end of it, a boy in baggy jeans told Ryan his goal was to beat him.
"Why would a boy pick a total stranger to chase down?" Ryan asked me.
"I'm a happily married woman of twenty-nine years (now thirty-six years), but my goal at these races is to chase men and catch them," I replied. "My husband doesn't mind if I run around with other men."
The thing about printing your triathlon training goals in a news column, as Ryan did, is that when you then order a hamburger and fries at a baseball game, one of your accountability partners (a.k.a. one of your readers) is inevitably at the concession stand threatening to tell Coach Alice. I sent Ryan to a registered dietician, my friend Lori Johnson, because the closer you eat to the earth and the more nutrients you put in your body, the better your engine performs. He learned a lot about kale.
One develops many friendships through the process of training for Spudman, and most competitors are more than willing to help and encourage newbies with techniques and other details. Half the battle is simply signing up for the challenge. John Bingham, author of Marathoning for Mortals, says, "The miracle isn't that I finished. The miracle is that I had the courage to start."
Ryan finished the Spudman twenty-seven pounds lighter than when he started training, and with more than four inches gone from his waistline. It was an exquisite joy to coach him. There's a category for larger people at Spudman: "Clydesdale" for men and "Athena" for women.
"Now, When I hear 'Clydesdale,'" Ryan said, "I don't think of beer."
This year our guest speaker at Spudman was James Lawrence, known as the "Iron Cowboy." He got his start at our event fourteen years earlier and he told the audience that back then his whole focus had been on getting a ceramic trophy. In 2015, James made history with an achievement that inspired the film, The Story of the 50. He completed fifty Ironman events in fifty states in fifty days. Every morning for seven consecutive weeks, he woke up and swam 2.4 miles, biked 112 miles, and ran 26.2 miles. His five children and wife Sunny traveled with him.
I was with a group of triathletes from Burley who planned to swim with James in his forty-ninth Ironman in Blackfoot, the day before the 2015 Spudman. It was to be an open-water swim but at the last minute it got moved to a pool in Idaho Falls, because James was so lean he wouldn't be able to warm up after the swim to get on a bike, whereas at a pool he could get into a hot tub. After the change of venue, we chose not to join him. The next day, he finished his fiftieth Ironman in Utah, his home state.
When people tell him he's different, James tells them, "I'm just like you." The key, he says, is that he learned through difficulty to push the boundaries, and not let other people tell him what he couldn't do.
"I never ever doubted, and neither should you, in anything you try to accomplish. One hundred percent conviction." That quote from the Iron Cowboy is one of my favorites, which I hung on my heart when I ran the 62.7-mile Sawtooth Relay solo in 2013 (see "One Impossible Thing," IDAHO magazine April 2018).
This year, James reminded us: "Celebrate the sport, smile, and say thank you to the volunteers for being out there."
Personally, I think I nailed all that.
This year we all were again "body marked" for the event. Our race numbers were written down our arms and down the back of one leg. On the back of the other leg was written either "T" for a team competitor or if you were a soloist, your age. I wanted to put a big adhesive over my age (sixty), but when I passed a male biker and wished him luck he said, "I hope I look as good as you at your age."
I melted like butter in a hot frying pan.
"Just never stop being active," I told him, and biked on with a huge grin on my face.
In 2017, "Team Reese," also known as "Running with Reeseman," first came to Spudman. We local triathletes rallied around Reese, a twin born at twenty-four weeks who has cerebral palsy and has had a tracheotomy. With the help of athletes and friends, Reese has competed in more than 260 races and he said Spudman is easily one of his favorites. Fellow competitors contribute the use of their legs and arms to help him cover the course. In 2017, Scott Redder swam for Reese, pulling his raft through the water. Mike Tilley biked, pulling him over the course, and Korena Redder pushed his race wheel chair during the run. This year, Team Reese was back again, assisted by Stan Beagley, a friend who has pushed and pulled Reese in several tris. I stood on the bank feeling blessed as I watched his raft move down the river.
The sight made me think of my friend Kim Walton from Heyburn, who was the swimmer on my Spudman team for years. In 2006, Kim was out biking with a tailwind and was hit by a van that ran a stop sign. She remains in a wheelchair, paralyzed from the waist down, but she's still on a Spudman team. She swims, a friend bikes, and then in her race wheelchair, she covers the run course, which is altered slightly to stay on pavement off the canals. I'm so proud of her. This year I biked with her in training for Spudman, as we rolled together over several miles.
My thirtieth Spudman is now in the history books, with memories to last a lifetime and recovery that lasted more than a week. I was delighted to finish second in my age group and bring home another ceramic trophy. During the awards ceremonies, a prize to the oldest competitor went to ninety-two-year-old Charlie French of Ketchum. When I heard his name, I dropped everything and ran over to meet him. I used to tell his story in a health class I taught for College of Southern Idaho. Charlie worked at Scott Sports in Ketchum and built the aero bars that helped cyclist Greg Lemond win the Tour de France in Paris in 1989.
As for my own mechanics, I'd say my cardiovascular engine is in good repair and my pistons fire marvelously—although maybe my timing device needs resetting, to add a little more speed to the overdrive.
For information about the 2019 Spudman Triathlon, visit burleylions.org/spudman