Tumbleweed Tinder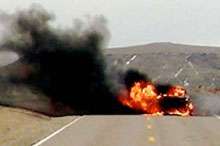 On the Wisdom of Going Around
Story and Photos by Dean Worbois
As a male, my first inclination was to bust right through that quarter mile of brittle little twigs and emerge triumphant on the other end, beating my chest at the might of my hundred-and-seventy horses.
But I thought of all those broken bits of tumbleweed sticking in every bearing of the drive train and every joint of the suspension, and decided to go around.
Going around was not as easy as you'd think.