Western Swing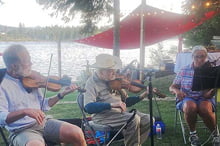 You'll Smile
Story and Photos by Desiré Aguirre
When I saw the grin of Les Tucker, our ninety-six-year-old Western Swing Hall of Fame fiddler, I knew we were going to be all right. I knew he had one more hot lick under his bow, that he might even tackle the extra C string on his custom-made violin (which he, of course, made himself), and that he would take us all home.
I sat or stood with my musical friends, the District 1A (Sandpoint) representatives of the Idaho Old Time Fiddlers Association. Murry, our harmonica player, cupped her instrument in her right hand and leaned into the music. Joey, who had encouraged me to join this band of musicians, kept a steady rhythm on her Martin guitar while Don Davis, as tall as a long walk, laid out the melody on his mandolin, and Mark added harmony on one of his fiddles.
I stood, ebony bones in hand, tapping my feet. Two-handed, I laid out a triple and a double beat on the bones as I glowed in this slice of heaven, this piece of paradise.
On this day, we were playing at the Sandpoint Senior Center, which was having a car show as a fundraiser. I think we need a few more practices before we're ready for the big stage at the annual National Oldtime Fiddlers' Contest and Festival in Weiser [see "Jammin' with the Champs," IDAHO magazine, June 2015].
Dave Gunter, who also performs in the alternative folk group Bridges Home with his wife Tami, can play just about anything on every instrument and can sing "Tennessee Waltz" in the key of C or D. He always tries to keep us in time, in tempo, and in the correct key. He does it all with a smile and a grace that makes me settle right into the next tune—most of the time.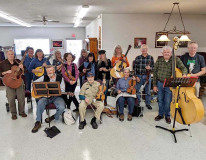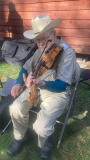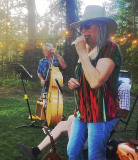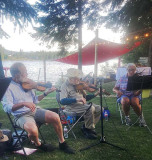 I prefer "Tennessee Waltz" in D, because on my fiddle, Jewel— a divine violin made by local luthier and fellow fiddler Mark Weber—I can add harmonies and make the melody extra sweet, although Les and Dave have to stretch their vocals to hit those high notes. Personally, I think it's good for their vocal chords, plus I'm not used to playing it in C, and I have to stretch my brain trying to locate the next note.
The best part of this gang is the easy camaraderie, the smiles on all the faces, even on a bad day when we know we suck and for whatever reason we just can't seem to get all the parts together. On those days, Les says, "Well, the band needs to work on that one but I know you'll all know the next one."
And, Bob's your uncle, he'll break out with a song I actually know how to play, like "Ashokan Farewell" or "Soldier's Joy." And we end up with a rendition we all believe will have to go on our "Best Hits" collection, which hopefully will come out before we all head to the Last Chance Band in the sky.
In the meantime, we practice, laugh, argue about which key to play the song in, talk about various instruments and famous fiddlers, laugh some more, discuss musical notation, have a monthly jam open to the public the last Saturday of every month at the Sandpoint Senior Center (from 3-5, folks), perform at Luther Park once a month, dance, and get all kinds of gigs. I guess when you don't charge to play, people are more likely to hire you.
'Course, we don't do it for the money, although we do take tips. Mike Beck, who plays a beautiful blond stand-up bass he built in his shop, where he also repairs carousel horses, told the people we performed for at a high school reunion that we accepted hundred-dollar bills but we also would take twenties.
We collected about two hundred dollars in tips that day, and all of it went right back to the Old Time Fiddlers, where it is used to promote traditional roots music throughout communities, at schools, and at old folks' homes.
I sat back down when Les took off on "San Antonio Rose," a western swing tune Les probably learned from the master himself, Bob Wills. I toyed with my bow, playing soft and low across Jewel's strings because I don't quite have the tune down yet. I was waiting for the chorus, when Les, Dave, Don, Mark, Joey, and I, plus whomever else cared to join in, would sing harmonies so sweet it would surely bring tears of joy to my eyes.
By the time Les took us home, members of the audience were adding their own voices, their own licks, and, my goodness, like me, several of them had tears in their eyes. As for our lead fiddler Les, well, he had a smile on his face as wide as the moon.