Wicked or Not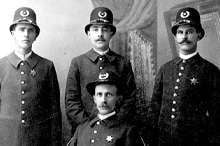 History's Ways and Means
By Janelle M. Scheffelmaier
My daughter turned thirteen the other day.
I don't think I'm ready to parent a teenager. But then again, is anyone? Few parts of parenting are easy. Of course, many moments are filled with joy and pride and love, but even those positive emotions, which I wouldn't trade away for anything, are rarely easily earned.
There are so many things I feel like I need to finish teaching my daughter. I know some of these lessons will be painful and difficult for both of us. There's one thing, though, that is much harder than I ever imagined it would be: teaching her right from wrong. This should be an easy lesson, right? I suppose when she was younger, it was. It's wrong to take toys from others who are playing with them. It's wrong to pull the cat's tail. It's good to say "please" and "thank you" and invite the new girl at school to play with you at recess.
The older she gets, though, the harder it has become to help her understand the concepts of right and wrong. The polarized environment we all find ourselves in now makes it even more difficult some days. She notices that some friends and family members do not hold the same beliefs and values I do. Does that make them wrong? Or am I wrong? How do we decide what and who is correct and who is not? Is there some space in the middle?